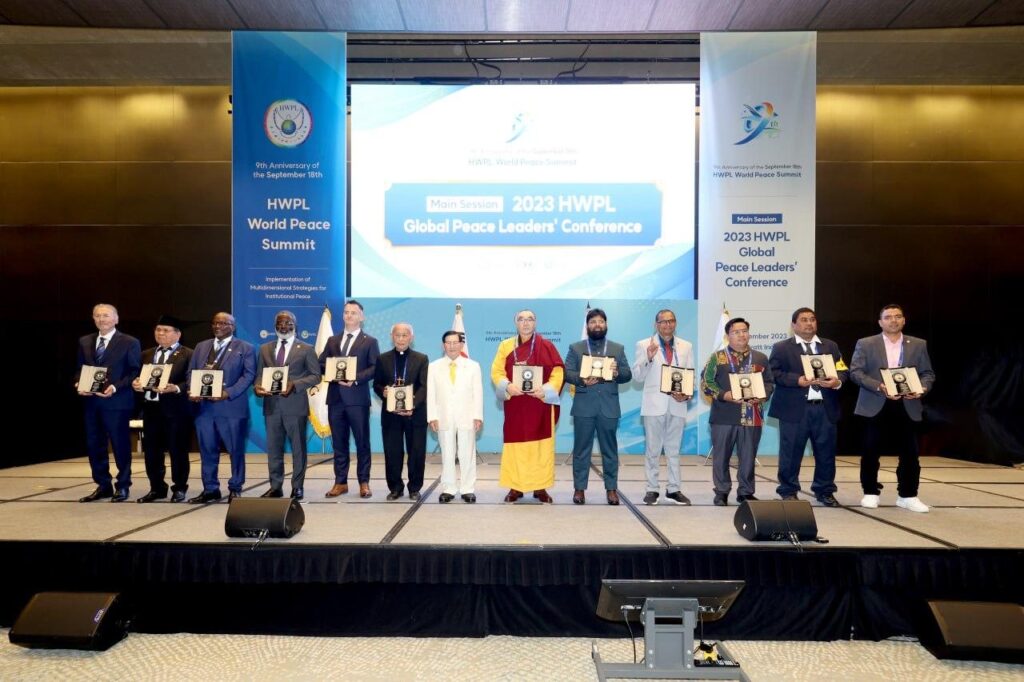 INCHEON, SOUTH KOREA- T

he Philippines has the most peacebuilding initiatives around the world in terms of spreading, promoting and building institutional peace presented at the International Youth Peace Conference during World Peace Summit organized by the

Heavenly Culture, World Peace, Restoration of Light (HWPL) held

on

September 18 to 21, 2023 in Grand Hyatt Incheon.
Based on the Youth Engagement & Peacebuilding Working Group (YEPW) of the International Peace Youth Group (IPYG) annual work plan for 2023-2024, it appeared that Philippines has the most initiative plans for exploring and executing ways for the youth to play a role in peacebuilding.
The country's annual action work plan initiatives will be held in Mainland Bangsamoro Autonomous Region in Muslim Mindanao (BARMM), in Basilan, Manila and Davao
BARMM initiative is to establish youth harmony network by focusing on inclusive education, climate change adaptation, and sustainable development. 
Establishment of youth peace network by providing  with leadership opportunities, training, and resources to become active agents of positive change in their communities are initiatives of Basilan.
While Manila is to engage youth in the community to amplify the awareness of rich culture and traditional dances for peace and for Davao is the establishment of youth peacebuilders through the Trees for Peace.
The YEPW, centered around the youth, searches for practical solutions to peace and security issues and aims to create a community of peace with active youth participation. It is a youth-led working group at the regional level operating in over 50 countries.
Its objectives are building youth networks in each region, creating a platform for regular communication, carrying out activities for conflict resolution, carrying out activities for culture of peace and activities for development of regional communities.
M
ore than 1,800 people from 
121
 countries, including the United States, the Philippines, Ukraine, South Africa, Pakistan, Thailand, Romania, and India, attended the World Peace Summit coincided with the 9th anniversary of the Heavenly Culture, World Peace, Restoration of Light (HWPL).
With the theme "Implementing a Mult
i
dimensional Strategies for Institutional Peace", leaders and experts in the fields of international law, religion, education, youth, women, and media participated in about 30 sessions over the four-day event.
The participants engaged in discussions, 
tailored 
not only by fields but also by countries, on practical and viable strategies to establish a legally binding international law for peace.
The first session was the Global Peace Leaders' Conference followed by International Youth Peace Conference wherein they presented the Regional Youth Engagement & Peacebuilding Working – Annual Work Plan.
Lee Man-hee, Chairman of the host organization, Heavenly Culture, World Peace, Restoration of Light (HWPL), urged politicians and leaders of countries to work together for peace
 as he
 call
ed
 for action, drawing from his personal experience as a war veteran, having witnessed the harsh realities of war.
"Why should the lives of young people be sacrificed in war? What is politics, and for whom is it for? When war breaks out, it is not politicians who go out and fight, but young people who have never bloomed before that are sacrificed. Peace cannot be achieved through words alone. If we don't have one, we have to create one, so we have traveled 32 times around the world to carry out peace activities. If peace had won in this world, there would have been no regrettable deaths. Through the enactment of international law, we must leave peace as a legacy to the global community where our descendants will live," he stated.
At the main session on the 18th, H.E. Prof. Dr. Emil Constantinescu, the 3rd President of Romania, said, "During the Summit, we agreed that Peace is not an abstract concept, but rather a supreme value of humanity that can generate a calm environment in which people can live without the threat of violent conflict or psychological pressure. We agreed to work towards the implementation of concrete measures, both in the short but above all in the long term, in order to fashion a new system of reference that replaces attitudes of "man against man" with "man alongside man", expressed in the motto we adopted in 2014, "We Are One"."
To achieve fair and sustainable peace, HWPL advocates for building an internationally agreed concrete institutional peace based on theDeclaration of Peace and Cessation of War (DPCW) that proposes the comprehensive measures of peace continuum, ranging from conflict prevention to maintaining peace.In addition, HWPL continues activities such as facilitating interreligious dialogues, fostering peace activities led by youth and women, providing peace education, and promoting a culture of peace through media outreach.
In the progress report presentation, Kang Tae-ho, Managing Director of HWPL, introduced the progress of the DPCW, which has received approximately 900,000 supports from civil society in 176 countries as well as the Central American Parliament, and the case of Mindanao, which is an example of a private-level peace agreement. 
Republic of the Philippines Vice President Sara Duterte together with Senate Majority Floor Leader Senator Joel Villanueva ang Senate President Pro-Tempore Loren Legarda also sent their congratulatory video-message and played it during International Women's Peace Conference.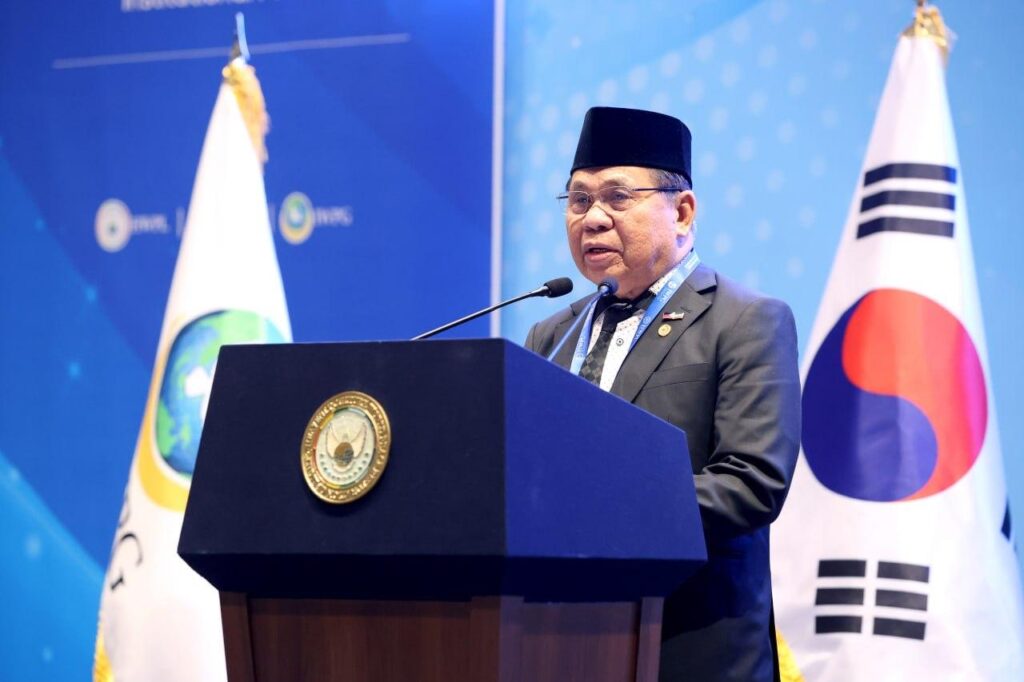 Hon. Ahod B. Ebrahim, Al haj, Chief Minister of the Bangsamoro Autonomous Region in Muslim Mindanao (BARMM) from the Philippines said, "Today, I stand before all of you with utmost humility and say that the Bangsamoro is now a land of peace, prosperity, and justice where Muslims, Christians, Indigenous Peoples', and our Lumad brothers and sisters co-exist and live in harmony. As we embrace a new age in the name of peace and development, I call upon every influential leader, policymaker, and peace advocate in parts of the world to become a catapult that promotes peace, disarmament, and a sustainable future. Let us continue to write a story of peace."
HWPL has operated the Religious Peace Academy (RPA), a platform for comparative scriptural studies, in 130 countries worldwide with the aim of preventing conflict and promoting reconciliation through interreligious dialogue. Also, HWPL Peace Education to learn and practice peaceful values has been implemented in the various schools and educational institutions in 90 countries around the world. 
HWPL officials expressed gratitude for the visit to South Korea by global peace messengers, including former heads of state and leaders of ministerial rank, all united for the common aspiration of humanity: peace. They also called for the cooperation of the South Korean government along with the support of the international community, to ensure that such non governmental diplomacy can contribute to achievable and lasting peace.
At this event, the HWPL Peace Award was presented to 13 individuals in recognition of their contributions to cooperating with HWPL's peace initiatives. 
Among the recipients  
were H.E. Prof. Dr. Emil Constantinescu, the 3rd President of Romania; H.E. Mr. Oumar Keita, Former Permanent Delegate of Mali to UNESCO HQ; and Dr. Ciaran Burke, Professor of International Law at Friedrich Schiller University Jena
 in German; Mayor Kramo Kouassi, Bocanda, City of Cote d'lvoire.
Archdiocese of Cagayan de Oro Archbishop-Emeritus Antonio Ledesma; 
Hon. Ahod Ebrahim, Al haj, Chief Minister, Bangsamoro Autonomous Region in Muslim Mindanao; 
Sebastian Tamagken, Supervisor of Yap Public-Broadcasting Station; Ibrahim Ahmed, journalists of Al Watam Al Arabi and Rana Setiawan, chief reporter of Mina News.
Women's group representatives include Zonta Club of Metropolitan Pasig Past President Ruby Bañares-Victorino, and National Federation of Women's Club Vice President Erlinda Olivia Tiu, among others.
From academia are Philippine Christian University-College of Law dean Bishop Justice Raoul Victorino and Commission on Higher Education (CHEd) commissioners Ronald Adamat and Jo Mark Libre, among other high-ranking school officials, principals and master teachers. 
The awardees were joined by Dr. Ronaldo Ramilo – DepEd School Division Superintendent (SDS) City of San Pedro; Dr. Randy Punzalan – DepEd SDS of Cavite Province; Dr. Josilyn Solana – DepEd SDS of Southern Leyte; Dr. Editha Atendido – DepEd SDS of Laguna Province; Dr. Concepcion Balawag – MBHTE SDS of Cotabato City in a signing ceremony of a Memorandum Of Understanding in expression of affirmed promise for a better future by sharing mutual goals and values and shows joint hands together for peace.