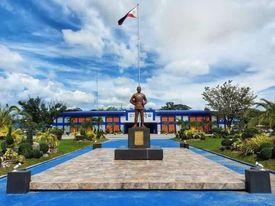 Camp Olivas, City of San Fernando, Pampanga- This year's traditional observance of All Saints' Day and All Souls' Day in Central Luzon was generally "peaceful" and no major incidents have been reported after thousands of Filipinos flocked to the different cemeteries all over the region to pay respects to their dearly departed.
This is the result of the advance preparations laid out by all PNP units of PRO3 to ensure the safety of motorists, commuters, and the public. The surprise inspections conducted by the different Red Teams and the designated area supervisors complemented the overall security measures of PRO3.
It is also attributed to the hands-on supervision of PRO3 Regional Director, PBGEN JOSE S HIDALGO JR, wherein he ordered the deployment of around 4,000 PNP personnel to render duties as Road Safety Marshalls and to man the different Police Assistance Centers and Police Hubs established along major thoroughfares particularly in the ingress and egress points of NLEX, SCTEX, and TPLEX to help motorists who were travelling towards their different provinces and for those heading back to Manila and other places to report for work on Friday, November 3. 
Maximum police presence and security are likewise being undertaken in all places of public convergence, especially in churches and vital economic points. Quick Reaction Teams are also on standby within the area for any eventuality that may take place. 
Due to tight security measures and implementation of stricter inspection and "frisking" of cemetery visitors, police authorities in Central Luzon were able to confiscate 32 bladed weapons, 11 alcoholic drinks, 6 Karaoke/Video System, and 2 playing cards.  
Police Regional Office 3 assures the public that it will maintain the prevailing peace and order in Central Luzon until the last visitor leaves the premises of the cemetery.