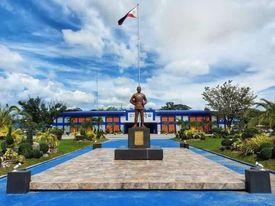 Camp Olivas, City of San Fernando, Pampanga –- PRO3 Director PBGEN JOSE S HIDALGO JR said that 20 individuals with pending criminal charges were arrested by authorities regionwide during the observance of Undas and All Souls' Day.
Of these 20 arrests, two individuals were considered "most wanted" and were apprehended while attempting to return to their homes. The charges against the fugitives include murder, robbery, rape, and violations related to illegal drugs.
Hidalgo emphasized that, while the primary focus during November 1 and 2 was ensuring the safety and security of the public in all cemeteries, they seized the opportunity to track down wanted individuals, whether they were expected to visit the graves of their departed loved ones or attempting to re-enter their homes.
He further urged the community to continue supporting law enforcement efforts and encouraged the families of those wanted individuals who are still at large to cooperate by either surrendering them to the authorities or directing them to the nearest police station.