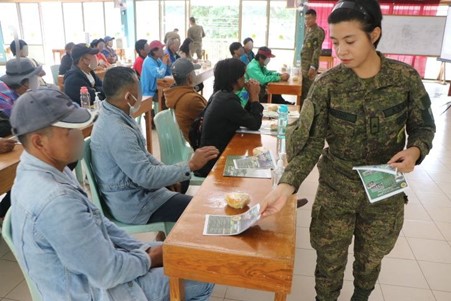 FORT MAGSAYSAY, Nueva Ecija – A total of 24 former rebels (FR) received livelihood training facilitated by troops of 69th Infantry (Cougar) Battalion (69IB) of the 7th Infantry (Kaugnay) Division (7ID), Philippine Army together with Provincial Local Government Unit (LGU) of Mountain Province from October 24-26, 2022 at Teng-ab Pastoral Complex in Bontoc.
The three-day capacity building program was also participated by the Provincial police force of Mountain Province and Rev. Father Marcial Lyod Castañeda of the Tengab Pastoral Complex. The FRs who came from different municipalities of the said province also received food packs and cash assistance from the Provincial LGU.
The three-day activity aims to capacitate and empower the participants in pursuing a sustainable livelihood, contribute to the reconstruction of their views of themselves, and align their experiences and knowledge to the peace and development effort of the government.
During the activity, the Department of Trade and Industry discussed entrepreneurial livelihood and conducted interviews with the participants regarding the economic endeavor they are planning to start. Moreover, the Department of Labor and Employment assisted the FRs in coming up with individual business projects.
Meanwhile, Rev Fr Castañeda lectured on four themes: Prayer, Forgiveness, Conversion, and Peace. The topics were punctuated with songs which kept them attentive, participative, and focused.
"Peace and development must be pursued at all times. This can be done through good governance and of course it should be complemented with good citizenship. We had enough for insurgency. The 53 years of local communist armed conflict has stunted development and hindered the peace we all aspire," Lieutenant Colonel Marcelo F Valdez, Commanding officer of 69IB stated.
Major General Andrew D Costelo, Commander of 7ID lauded the initiative of various government institutions in giving much needed support to the FRs who wish to return in the mainstream society and reiterated that the Kaugnay Division is always ready to support programs that will uplift the livelihood and wellbeing of FRs.