THE Office of the Bulacan Vice Governor in partnership with the Philippine Foundation for Breast Care, Inc., SM City Marilao, SM Cares, and Kasuso Foundation successfully launched its series of Breast Cancer Awareness Advocacy Campaign on Tuesday, October 11, 2022.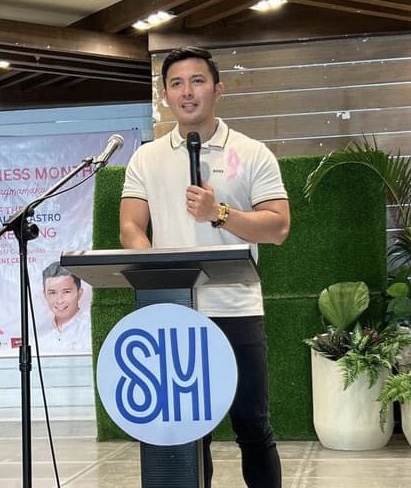 The event was personally organized by Vice Gov. Alex Castro aimed to educate and promote awareness among mother leaders, health workers, and women volunteers from the towns of Obando and Marilao, and Meycauayan City to raise awareness on breast cancer.
"Prevention is not our goal in this seminar. Rather it is early detection that saves lives," said resource person Aileen Ilagan of the Kasuso Foundation.
In his message, VGov. Castro said "My advocacy to supporting women and promoting awareness to breast cancers goes a long way back to my days as councilor of Marilao, and that's 20 years ago. That's why I am very happy that as Vice Governor I now have a new platform in spreading this cause in the province of Bulacan." 
He added that the Provincial Government of Bulacan led by Governor Daniel Fernando supports programs that empower women and help them in their wellness.
Castro also gave message of hope and recognize all of the survivors and volunteers, who have worked hard to educate people on how to cope up and fight the disease. He also stressed the importance of regular breast check up and screenings.
The campaign, which was attended by at least 200 participants from the towns of Marilao, Obando, and
Meycauayan gathered at SM City Marilao to celebrate the strength of breast cancer survivors and
empower those who are currently living with the disease.
Gladiz May Latiza, SM City Marilao Pubic Relation Officer said, because early detection saves lives, the breast cancer awareness campaign at the mall includes series of lay fora on its prevention while reducing stigma linked to symptoms and treatment.
She added that a free mammogram tests were also given to participants as well as walk-in shoppers.
Also present in the event supporting her husband was former Sex Bomb performer Sunshine Garcia.
"Take advantage of free seminars like this that help you assess your female health wellness. I am happy that my husband supports causes like Breast Cancer Awareness," she said.
After an hour of lecture, Kasuso volunteers commenced breast screening to less than 200 females in enclosed tents. Raffles and performances by participants provided entertainment during wait time.
SM Cares, also a staunch supporter of this cause, sponsored the program with SM Department Store, Beautéderm, Escent Fragrance, and Max's Restaurant.
Breast Cancer Awareness Month is a global annual campaign celebrated throughout October to raise awareness about the impact of breast cancer.