A grand-scale peace event was held in South Korea from September 18 to 20 with stable operation and participants' satisfaction. Themed "Implementation of Multidimensional Strategies for Institutional Peace," the world peace event hosted by Heavenly Culture, World Peace, Restoration of Light (HWPL) with the contribution of 2,000 volunteers was set to welcome over 800 global leaders from 121 countries representing diverse sectors including politics, education, youth, women, media, and religion from around the globe.
At the heart of this grand occasion was the dedicated Airport Team, working tirelessly to ensure the smooth arrival and departure of participants. Their responsibilities spanned from issuing visas to ticketing, guaranteeing the safety of participants, and even handling unforeseen flight disruptions. In their unwavering commitment to safety and order, they left no stone unturned to ensure a seamless airport experience for all.
The skilled drivers from the HWPL Convoy Team as another group of volunteers undertook meticulous vehicle inspections to transport the participants with comfort and safety. Their professionalism and dedication left a lasting impression on visitors. The total distance driven by volunteer drivers during the event was approximately 800,000 km, or spinning 20 times of the globe.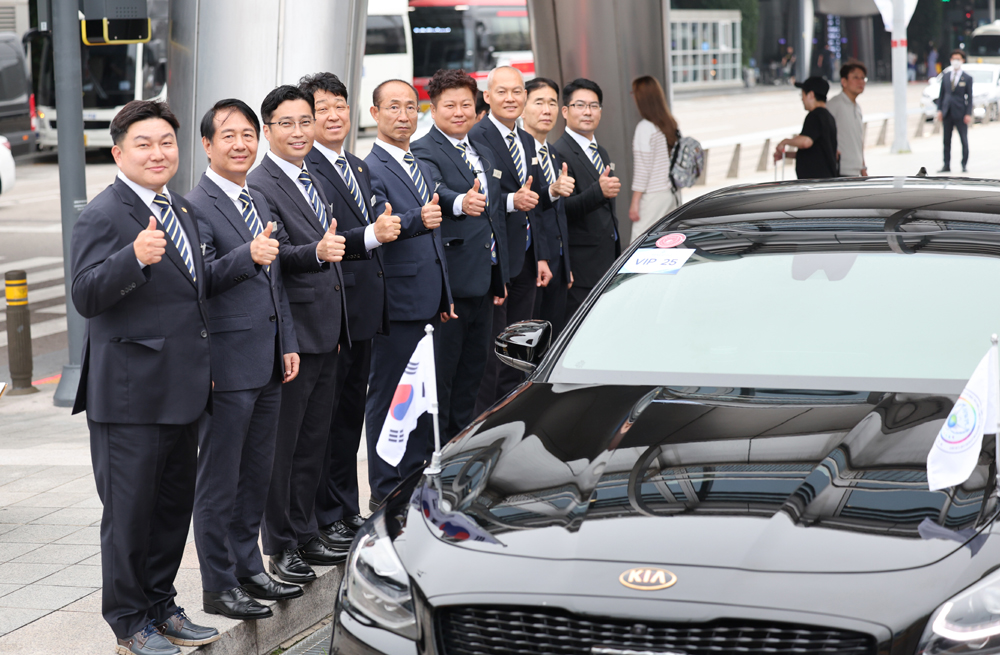 Volunteer interpreters also played a vital role in facilitating communication in sessions of the summit. Their commitment to connecting communications ensured a meaningful experience for all involved. "All of the 800 guests participating in over 30 sessions require interpretation. And all materials have to be translated into over 20 languages. Not only private organizations but also most national forums do not operate on such a large scale. Our HWPL interpretation and translation volunteers are carrying out this entire process," said a volunteer interpreter.
The broadcast media team, consisting of 208 volunteers, worked to capture and convey the essence of the summit to a global audience. "I believe that our videos serve as a powerful tool for spreading a culture of peace, making this event accessible to people around the world in various languages," said a volunteer.
The installation team was responsible for the critical infrastructure necessary to make the event a success. They handled electrical setups, stage installations, and maintenance throughout the event, ensuring a seamless experience for attendees.
"All of these volunteers, driven by their passion for peace, are working tirelessly to support the peace summit, and their unwavering commitment is truly remarkable. We HWPL would like to appreciate their dedication and hope that the government will support this peace movement," said a HWPL official.