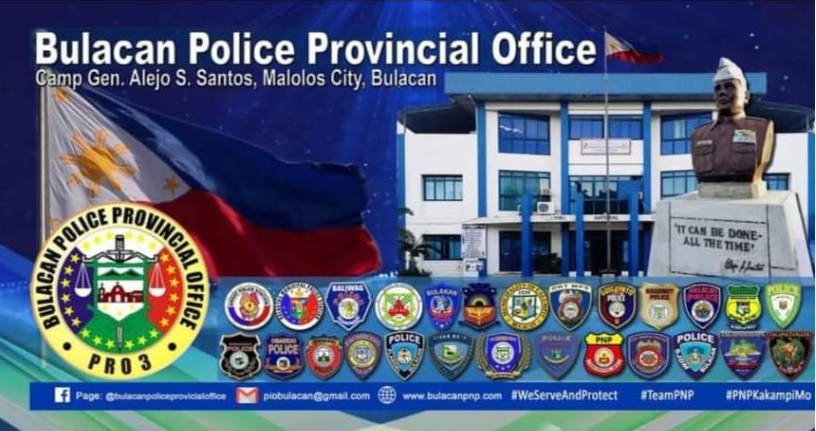 Camp General Alejo S Santos, City of Malolos — The diligent efforts of Bulacan Police led to the apprehension of nineteen individuals in the different anti-criminality operations by Bulacan PNP on September 25 and early today.

In reports submitted to PCOL RELLY B ARNEDO, Provincial Director, Bulacan PNP, Malolos police's swift response apprehended two (2) individuals for robbery hold-up in Brgy. Mabolo, City of Malolos, Bulacan. They were identified as John Michael Alasa and Allen Kevin Alasa of Brgy. San Juan, City of Malolos. Recovered from the suspects were the victims' belongings and a gun (replica airsoft) used to gun-point rob the victims.
Both arrested suspects are now under the custody of the Malolos CPS, while criminal complaints for violation of RPC Article 294 (robbery hold-up) and RA 10591 in relation to violation of the Omnibus Election Code are now being prepared.

Manhunt operations conducted by the tracker teams of Bulacan 1st PMFC, Meycauayan, San Jose Del Monte, Marilao, Pandi, Calumpit, Guiguinto, Bustos, San Rafael, and San Miguel PS against wanted persons arrested thirteen (13) individuals with court-issued warrants of arrest. Among the arrested were Rogene Genovatin for Lascivious Conduct under RA 7610, Rape by Sexual Assault, and Attempted Rape; Marie Salamea for Maltreatment and Slight Physical Injuries; Abban Reyes for Murder without Bail; Leopoldo Reyes for the crime of rape; and Domingo Laban for Statutory Rape by Sexual Assault in Rel. to R.A. 7610; Michael Punzalan for two (2) counts of Estafa; and Rodel Padiernos for violation of Section 5 of RA 7610.
On the other hand, the service of a warrant of arrest against Jodel Haban for Qualified Trespass to Dwelling conducted by the Bulacan 1st PMFC resulted in the confiscation of one (1) cal. 38 revolver with serial number 31807 with one (1) live ammunition. Arrested suspect will also be charged with criminal complaints for violation of RA 10591 in relation to the Omnibus Election Code.
 
All the arrested individuals are presently under the custody of the arresting unit or station prior their turn over to the court of origin upon the issuance of their commitment order.  
Meanwhile, the Station Drug Enforcement Unit (SDEU) of Malolos, Obando, and Pulilan PS conducted separate buy-bust operations and arrested four (4) drug dealers. They were identified as Sabrina Mendoza @ Ate Muslim from Himalayan Rosario, Cavite, Ramoncito Marquez @ Pamon of Brgy. Paco, Obando, Bulacan (both included in the PNP/PDEA watchlist), Jeffrey Pingol, and Dominic Navarro, both from Malolos City.
Recovered from the arrested suspects a total of 9.9 grams of suspected shabu with a standard price of sixty-seven thousand one hundred eighty-seven pesos (Php 67, 187.00).  

The arrested suspects and confiscated pieces of evidence were brought to the Bulacan Provincial Forensic Unit for appropriate examination, while criminal complaints for violations of R.A. 9165 against the suspects are now being prepared for filing in court.