Bai Indigenous Women's Network is in solidarity with the Tribal Filipino Week celebrations, a significant time when we pay homage to our culture and traditions, as well as remembering and reflecting on the great history of the Indigenous Peoples.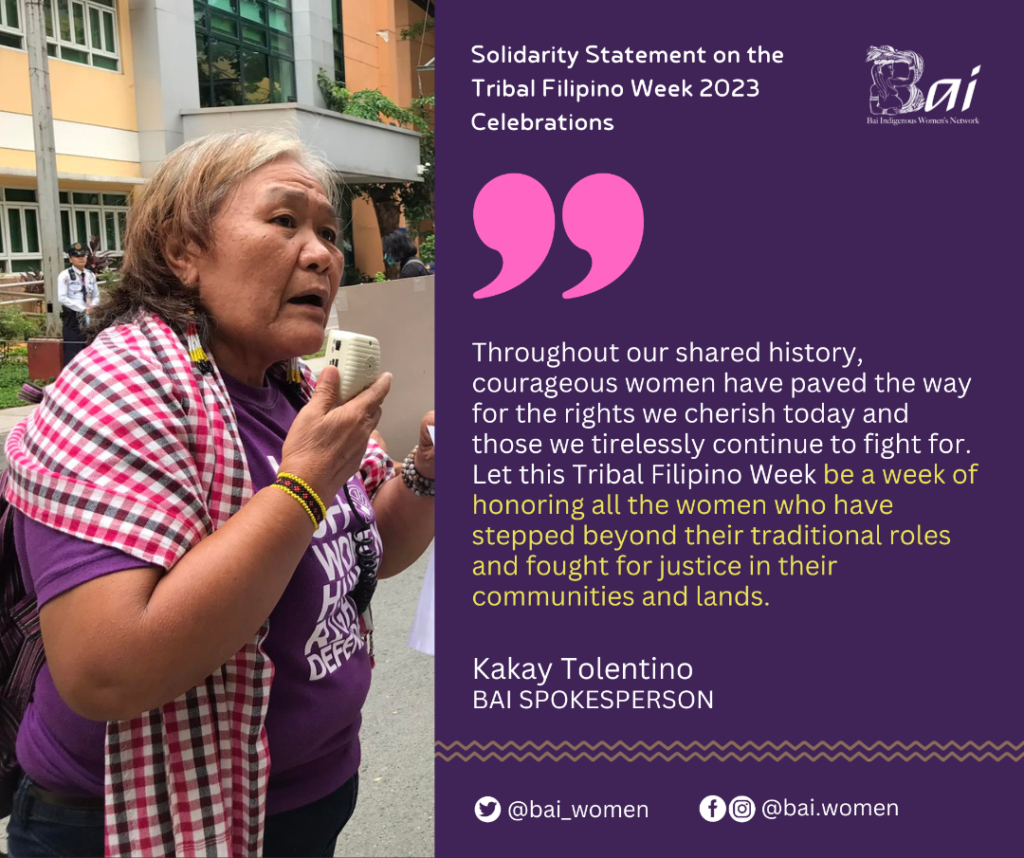 Throughout our shared history, courageous women have paved the way for the rights we cherish today and those we tirelessly continue to fight for. Let this Tribal Filipino Week be a week of honoring all the women who have stepped beyond their traditional roles and fought for justice in their communities and lands.
This year's celebration is marked by the ongoing campaigns to free as well as to safely return our Indigenous Peoples rights defenders (IPRDs). Mary Joyce Lizada, detained in an army camp, is eagerly awaited by her friends, family, and the indigenous and peasant communities she has long supported. Julieta Gomez and Niezel Velasco, Lumad rights defenders, are also unjustly detained on trumped-up charges. The number of Indigenous women political prisoners is increasing, emphasizing the urgent need to intensify our efforts for their immediate and safe release. In Northern Luzon, IPRDs such as Jen Awingan and Sarah Alikes were designated as terrorists by the Anti-Terrorism Council, a completely arbitrary decision that disregards basic human rights. In current times, human rights advocates from various sectors are facing threats to their safety due to the draconian law.
Amidst these challenges, our determination remains unshakeable. We stand resolute in the face of attacks against our Indigenous Women defenders. We persistently call for the freedom of all political prisoners and demand the release of our fellow Indigenous People detained under unjust circumstances. We call to junk the Anti-Terror Law that continues to attack government critics in the midst of inhumane attacks. We amplify our voices, urging an end to all attacks against Indigenous Peoples. During Tribal Filipino Week celebrations, we unite to fight for peace, freedom, and justice in our communities.