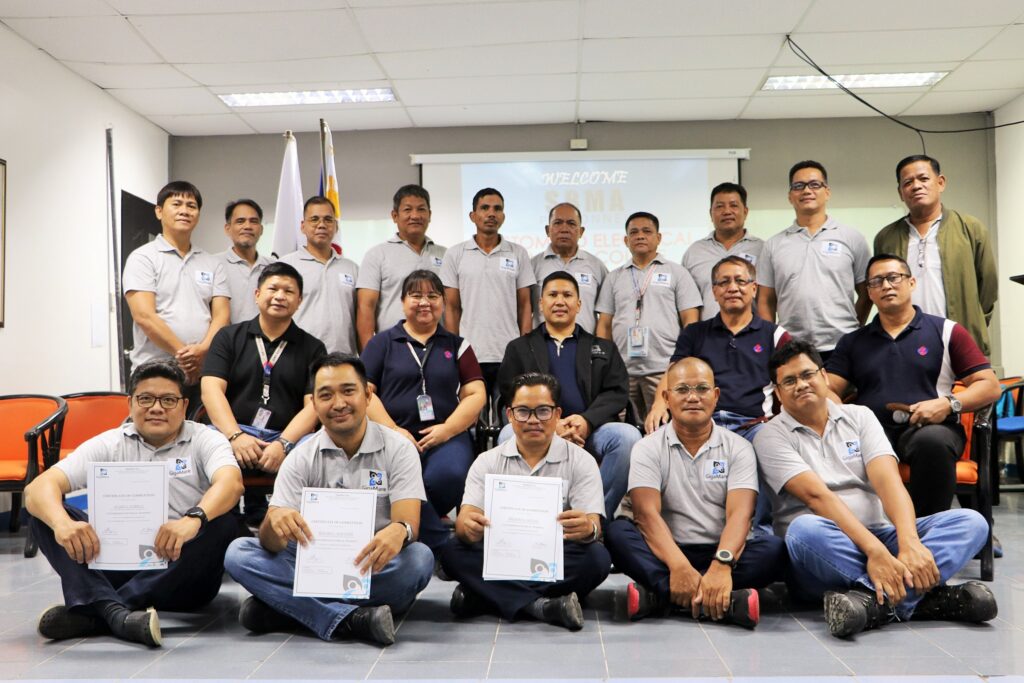 Subic Bay Freeport – Some 15 employees of the Subic Bay Metropolitan Authority (SBMA) recently completed Customized Electrical Training Course at the Gigamare, Inc. Training Facility at the East Ilanin Forest of the Subic Bay Freeport Zone.


According to Human Resource Management Department manager Vivian Abalos, this training course is the second training course offered by Gigamare as part of their commitment to the SBMA to give skills enhancement training courses to its employees free of charge.
She said that back in February this year, the first batch of SBMA employees underwent air-conditioning skills training at the said facility, adding that there will be more employees who will take part in other various skills training courses.


"Their training course would normally cost $1,100 per head. That is how much the agency saves with every employee we send to Gigamare for skills enhancement training. This includes shuttle services back and forth, meals during training, use of equipment and other materials related to the training," Abalos explained.
During the first day of the five-day electrical training course, topics discussed were Electrical Safety and Basic Electrical Theory; electrical hazards; characteristics of matter; electrostatics, resistance and conductance; basic electric circuit; electricity and power; and resistor color coding.

For the second day, the topics included introduction to direct and alternating currents; series direct current circuit; direct and alternating current and voltage; alternating current advantages; and installation of tube light circuit.


Third day topics include: meter basics; ammeters; voltmeter; ohmeters; multimeters; and installation of series/ parallel circuit/ 3-way switch.


For day four, DC and AC motors; principles of operation; motor loads; direction of rotation; practical direct current motors; basic alternating current motors; and construction and operation of AC and DC motors.


Day five topics include: Basic motor control; introduction motor; starters/ controllers; symbols and diagrams; control circuits; motor starting methods; configure the power and control circuit of full voltage starter and reduced voltage starter; wiring the power circuit and control circuit of full voltage starter; and wiring the power circuit and control circuit of reduced voltage starter.


Gigamare, Inc. has committed to provide skills training to SBMA employees on a quarterly basis. According to the company, this is part of their corporate social responsibility for this premier Freeport.


Gigamare was established 15th of April 2013 acquiring Wärtsilä Corporation's training infrastructure in Subic; continuing the company's operations in the Philippines. Their mission is to provide innovative and high-quality products and services leading to safe and efficient operations for maritime, offshore, oil and gas, energy, and mining segments.


The company offers environmental and economic training solutions for an improved human factor aided by performance gap analysis. Our unique hands-on academy offers close to real-life experience on operating, repairing, and maintaining equipment and shipboard simulators.