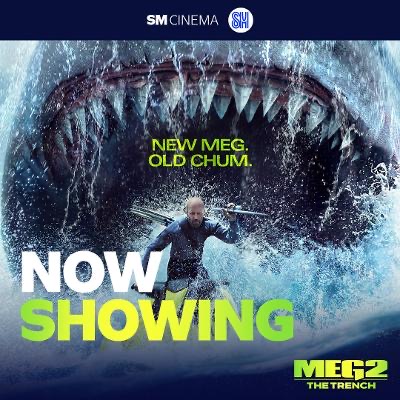 Dive down to the deepest, uncharted waters and face your fear of the unknown as SM Cinema brings you Meg2 : The Trenchstarring Jason Statham and global action icon Wu Jing.
Join them as they embark on an exploratory journey into the deepest part of the ocean. Get yourself ready for the thrill as our heroes try to outswim and outsmart the largest Apex Predator anyone has ever seen.
Bite the chance to see a whole new school of Megalodons and have the best cinematic experience at SM Cinemas near you!
Brace the excitement with freshly popped popcorn and snacks at Snack Time and make yourself comfortable with the plush seats at SM Cinema.
Let the crystal-clear display on huge screens paired with the best cinema audio in the country take you to every scene to make your Meg 2 experience even more spectacular!

Meg2 : The Trench is now showing at SM Cinema! So head to your favorite SM Bulacan Malls Cinema in Marilao, Baliwag,and San Jose Del Monte. You may also buy your tickets at SM City Valenzuela, SM Center Sangandaan, and SM City Grand Central in Caloocan.