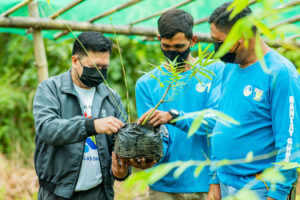 Around 3.5 million trees have been planted on 1,000 hectares of upland and coastal land nationwide by the San Miguel Corporation (SMC) particularly in Bulacan, Zambales, Davao Occidental, Negros Occidental, Bataan, Pangasinan, Albay, Quezon province, Batangas, Cebu, and Misamis Oriental for the last three years as part of its corporate-wide initiative to help rehabilitate and manage degraded forest lands and improve livelihoods of forest-dependent rural communities.
Together with local government agencies and communities, SMC said on Friday, the company's  initiative has yielded a survival rate of 89% for upland trees and 91% for mangrove saplings.
"It's been a meaningful year for us and our major environmental projects. Even as we made great progress in our river cleanup and rehabilitation initiatives–particularly for the Tullahan and Pasig River systems–progress on our nationwide upland and mangrove reforestation project has been better than expected," said SMC president Ramon S. Ang.
"It's largely due to the commitment and focused efforts of our businesses, employees, volunteers, and community partners who have been working together to achieve our goals. As our country starts to recover from the pandemic, we will further expand these programs, which are essential to improving quality of life, supporting livelihoods and shaping an overall better future for all of us, post-pandemic,"Ang added.
Ang said that in all, SMC's group-wide reforestation project targets to plant endemic trees and fruit tree species over 4,000 hectares nationwide recommended by the Department of Environment and Natural Resources (DENR) and local communities with vast knowledge of their areas.
Ang said the bulk of its 2021 total includes close to 1.5 million trees and mangroves planted by its power subsidiary, SMC Global Power Holdings, (SMCGP) as of October 15, 2021, as part of its carbon capture initiative dubbed Project 747. The project entails planting of seven million trees in at least seven provinces nationwide.
"We thank the DENR and our local partners for their continuing support and cooperation for our initiatives, especially in helping us determine which tree species to plant in their respective areas. This is key to the trees' survival and ensuring that the existing environment is not disrupted," Ang said, noting that in some areas, fruit-bearing trees have been planted in line with the government's agro-forestry program, to benefit surrounding communities for generations.
Ang touted SMC's partnerships with local communities and farmers' and fishermen's groups as key to the high survival rate of its trees. For Project 747 alone, the survival rate is at 89% for upland trees, and 91% for mangrove saplings.
"The success of our programs lies in the support and participation of communities–from farmers, to fisherfolk groups, to residents of our sustainable housing communities. In our experience, trees and mangroves planted have a higher chance of growing to adulthood if the community has a sense of pride and ownership over them, and when everyone fully appreciates their benefits–whether its shade, protection from tidal floods, better air quality, or fruits that they provide," Ang said.
For this year, SMCGP has planted 600,014 tree seedlings and 947,752 mangrove propagules, exceeding its one million annual goal to make up for a slightly lower output last year, due to the onset of the pandemic. The company is looking to plant up to 1.7 million trees by end of the year.
Ang said that overall, this brings SMCGP's total to 3,476,914 million trees and mangroves planted in less than three years.
Since the program started in 2019, Project 747 has already covered 1,021 hectares of upland and mangrove coastal areas. Trees and saplings planted are continuously maintained with the help of 39 people's organizations throughout Zambales, Davao Occidental, Negros Occidental, Bataan, Pangasinan, Albay, Quezon province, and Bulacan.
Among upland tree varieties planted and maintained are Narra, Molave, White Lauan, Palosapis Agoho, Batino, Igang, and Malabayabas, while mangrove varieties include Bakawan Babae, Bakawan Lalaki, Bungalon, and Api-Api.
Meanwhile, Ang said that ongoing community-based reforestation projects of other SMC subsidiaries in various provinces, also added to SMC's overall total.
San Miguel Brewery's Trees Brew Life Program this year planted 22,600 mangroves and trees in Mandaue, Cebu, and 1,500 trees in Bacolod and Tagoloan cities. In the last 10 years, SMB's Trees Brew Life has planted an estimated one million trees in various locations nationwide.
Company volunteers from SMC's Bulacan Bulk Water Supply unit have so far planted 6,400 trees over 14 hectares of land since 2019, under the annual Million Tree Planting Challenge with the Metropolitan Waterworks and Sewerage System (MWSS).  This year, it planted a total 3,200 narra and guyabano tree varieties.
The MWSS program with partner organizations aims to reforest or replenish the forest cover of 126 hectares of the Angat Dam Watershed in three years.
SMC also recently involved residents from Balayan, Batangas and San Miguel-Christian-Gayeta Homes in Sariaya, Quezon province, in reforestation activities, through community-based tree-planting projects. A total of 2,500 assorted tree varieties such as langka, guyabano, mulawin, Philippine cherry, and Philippine almond, were planted and are being grown in their respective localities.
Meanwhile, Ginebra San Miguel Inc., employee volunteers together with community stakeholders are taking care of 40,000 full-grown trees across 12 hectares of land in Bago City, Negros Occidental as the company is also undertaking a two-hectare expansion at the same site.
Petron Corporation also eyes to plant at least 50,000 seedlings as part of its proposed 10-year biodiversity conservation efforts for the Sarangani Bay Protected Seascape. Since 2000, Petron has planted over 1 million trees and mangroves nationwide and has also adopted a total of 30 hectares of mangrove reforestation areas in Tacloban City, Leyte, Roxas City, Capiz under its "Puno ng Buhay" program.
In the first half of 2021, Petron received approval to reforest one hectare each in Bawing, General Santos City and Tagoloan, Misamis Oriental. Bawing is expected to be planted with approximately 2,500 new mangrove propagules, while Tagoloan will have bamboo and other seedlings for reforestation.