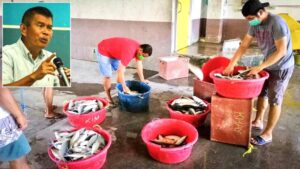 CITY OF SAN FERNANDO, Pampanga – The Bureau of Fisheries and Aquatic Resources (BFAR)  announced on Thursday that the first six months of the year have been a fruitful 2021 after the Philippine Statistics Authority (PSA) recorded an 8.3% growth rate in "bangus" (milkfish) production throughout the country.
According to the PSA report, nearly 185,000 metric tons of bangus have been harvested nationwide at the end of June, 2021 which is higher compared to 170,755 metric tons harvested in the same month in the year 2020.
Current data showed, Central Luzon leads with the most production bangus nationwide at 55,740.14 metric tons followed by Ilocos Region 47,552.54 mt and Western Visayas with 44,687.32 mt.
In addition, the production of bangus fry also increased in the third quarter of 2021 of which 1.08 billion pieces of semen have been collected by the said industry at the end of September.
This is 40.8% higher compared to the 7.7 million bangus fry collected same month last year and its main reason is the doubling of production coming from hatcheries established by BFAR in local governments.
BFAR  National Director Eduardo Gongona recently went to the office of the National Focal Person for Milkfish Commodity and Central Luzon regional director Wilfredo Cruz where he personally congratulated the people behind the effort and said initiative of additional production of bangus.
Gongona lauded RD Cruz for the successful management of production of said commodity and also in the endeavor made by the bangus focal person in each Regional Fisheries Office (RFO) of the bureau nationwide.
"Sustainable fishery production is the basis of all the programs we do here at BFAR, so if the production of a commodity, especially bangus, increases, it means that we are doing the right thing and we are moving towards food sufficiency, "Gongona explained.
Meanwhile, the BFAR leader also encouraged the workers to intensify bureau to support local fishermen and further grow the sector fisheries so that the Philippines will no longer rely on the import of any fish.