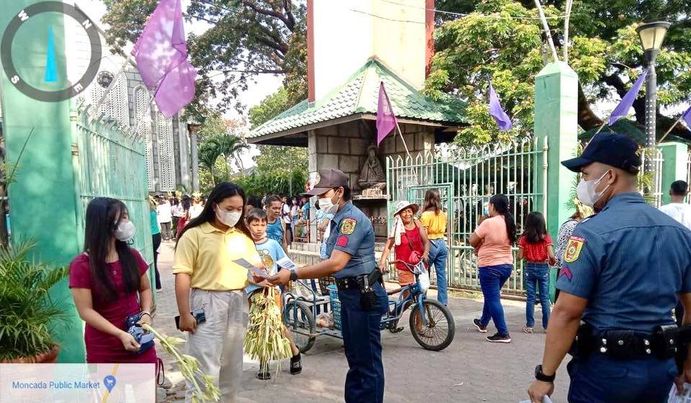 CAMP Olivas, City of San Fernando, Pampanga – The Police Regional Office 3 (PRO3) has deployed over 1,000 PNP personnel coming from different police units in Central Luzon region wide to ensure the safety and security of the general public during the observance of Holy Week.
"We are expecting influx of passengers in bus terminals and at the same time  pilgrims and devotees to local churches and pilgrimage sites are expected to flock especially on Maundy Thursday and Good Friday, this is why I have ordered the maximum deployment of our personnel as well as I have tapped the support of other police units within the region.," said PBGen. Jose Hidalgo Jr, regional director of PRO3.
He added that they have also solicited the support of PRO3's force multipliers and auxiliary forces to include the Barangay Peacekeeping Action Teams (BPATs) and Radio net groups to help ensure the public safety.
Hidalgo further stated that police presence is being  intensified through increased foot/mobile patrols and established Police Assistance Desks/Centers (PADs/Cs). 
Also, road safety marshals are already deployed in convergence points particularly in bus terminals, airport, seaports and recreational areas including highways, main thoroughfares and crime prone areas to ensure maximum police presence. 
Earlier, PNP personnel across the region have provided area security in churches and chapels as the Holy Week officially starts with Palm Sunday.
"Semana Santa is a time for spiritual reflection for our Catholic devotees and we want them to hold their devout activities without worries. We are committed to ensure their safety and maintain peace and order in the week-long observance of Holy Week," Hidalgo said.
In Bulacan, PCol. Relly Arnedo will deploy over 200 more police force to ensure the safety and security of the public as the Lenten Season 'Semana Santa' and summer vacation begin. 
Arnedo directed the deployment of police force and establishment of 50 Police Assistance Desks (PADs), to maintain peace and order at strategic locations and all points of convergence across the province during the LIGTAS SUMVAC (Summer Vacation) 2023.
The Bulacan Police has taken the initiative to conduct frequent inspections and increase police presence at tourist attractions and areas expected to have a high volume of tourists to ensure the safety and security of vital infrastructure such as passenger terminals, resorts, and pools. 
In addition, regular mobile patrols have been executed to deter any unlawful activities and promote a peaceful and enjoyable vacation experience for everyone.
Arnedo said, the Bulacan PNP's commitment to ensuring the safety and security of the community, reflect the police force's unwavering dedication to its mandate. 
The PNP is fully prepared to respond to any emergency and provide assistance to the public. 
He added that the public can expect a peaceful and safe observance of the 'Semana Santa' and summer vacation.