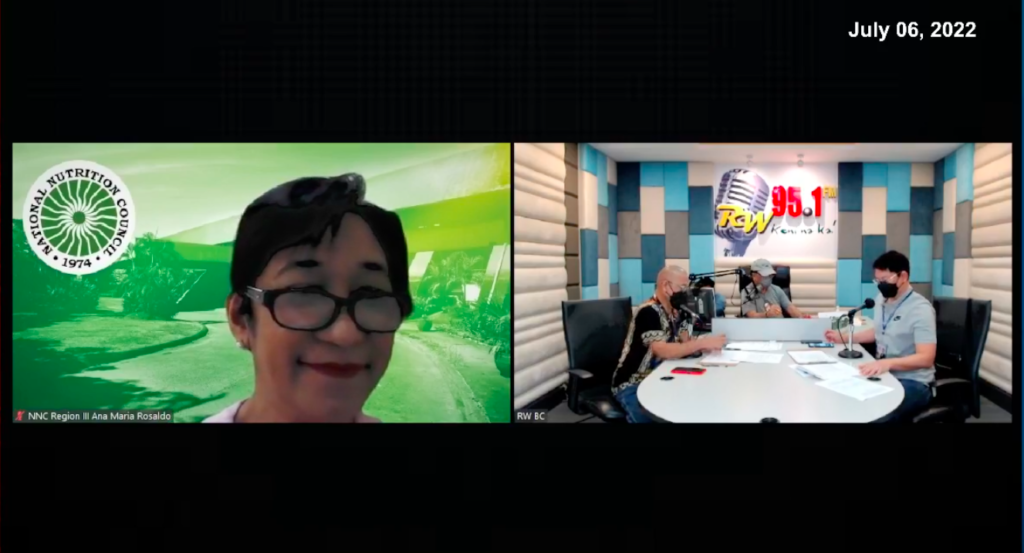 CITY OF SAN FERNANDO, Pampanga — National Nutrition Council (NNC) is intensifying its actions to address nutrition issues in Central Luzon under the new normal.
This is in line with the celebration of this year's Nutrition Month that goes with the theme "New Normal na Nutrisyon, Sama-samang Gawan ng Solusyon."
NNC Regional Nutrition Program Coordinator Ana Maria Rosaldo shared that among the nutrition issues faced by the region is malnutrition including underweight, overweight, obesity, stunting, and wasting; and micronutrient deficiencies such as iron-deficiency disorder and vitamin A deficiency.
"All the members of the Central Luzon Regional Nutrition Committee are urged to participate in the nutrition month celebration. Our 25 national government agency-members will be joining the celebration together with our peoples' organization, barangay association of nutrition scholars, and the local media for the realization of the aim of the celebration," she said.
For the celebration, the council will conduct a webinar on food labeling and food safety, nutrition school on the air, radio plugs, advocacy workshop for the league of punong barangays association, and the launching of the regional nutrition shepherding initiatives, and scaling up nutrition network movement which is a global movement to end hunger and malnutrition.
Rosaldo added that the pandemic has greatly affected Central Luzon's nutrition programs.
Effects include the increase in malnutrition in the region as found on the rapid nutrition assessment survey conducted by the Food and Nutrition Research Institute in 2020. 
"The weight of children has lowered. Two out of 10 children were affected, and a big proportion of them are from severely food insecure households or families experiencing intense shortage of food," she explained.
In the same survey, Rosaldo emphasized that babies and small children are proven to be the most affected in the disruption of nutrition services due to lockdowns and quarantine restrictions.
The NNC's Operation Timbang has only reached 51 percent of children and babies in 2020, compared to the 83 percent beneficiaries in 2019; while the supplementary feeding program has benefitted only about 11.9 percent of children in 2020, compared to the 21.6 percent in 2019.
There is also a decline in vitamin A supplementation conducted by local government units as only 54.9% were delivered in 2020 compared to the 65.4% in 2019.
Only 6.4% of children were dewormed in 2020, compared to the 35.3% in 2019.
Apart from these, Rosaldo stated that the health crisis and economic downtrend brought about by COVID-19 has led to the increase in the hunger rate.
Results of the survey conducted by Social Weather Stations indicated that about 12.2% or 3.1 million Filipinos have experienced hunger in the first quarter of 2022. 
SOURCE: Jag Lyra D. Costamero/ PIA 3