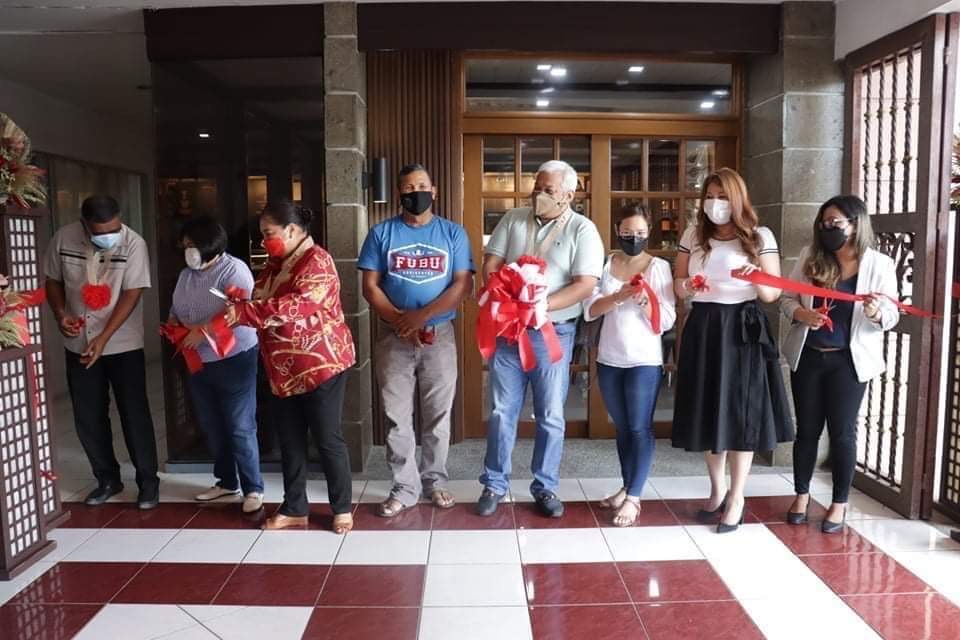 ANGELES CITY — Angeles City will now have its own blend of organic coffee in its newest café — Kapebaluan — while enjoying reading a variety of books displayed in the café.
Found at the ground floor of the City Library, Kapebaluan will showcase the green arabica beans grown by Angeleño farmers.
It will serve five varieties of drinks such as coffee (kape), non-coffee (alang kape), tea (pang marimla), signature (tatak), and barista. Café goers have 19 flavors to choose from.
Mayor Carmelo "Pogi" Lazatin, Jr. who is present during the opening of Kapebaluan on March 17, 2022 said the initiative to establish the cafe is to assist the farmers in their livelihood amid the pandemic, and provide an opportunity to introduce the locally-produced coffee to a larger market. 
Also present with Mayor Lazatin are Vice Mayor Vicenta Vega-Cabigting, Chief Adviser IC Calaguas, Executive Assistant IV Reina Manuel, City Engineer Donato Dizon, Angeles City Economic Development and Investment Promotions Officer-in-Charge Irish Bonus-Llego, Erma Manalo, Officer in Charge of Angelss City Library and Information Center, other officials and department heads, and Coffee farmer Fidel Carbungco. 
"While we aim to enable them to put food on the table, we also want to showcase our very own organic coffee. Kayang-kaya makipagsabayan ng kapeng Angeleño sa mga international brands," Lazatin said. 
Manuel, who supervised the construction of the café with Calaguas and City Engineer Dizon, shared this will be managed by the city government with assigned staff from ACEDIPO. 
For her part, Bonus-Llego mentioned the city purchased 92 kilos of arabica beans from the Angeleño farmers which will be mainly used at the café.
The said beans are also available at the One Town One Product store of the city, she says.
The café, which mostly has reference books in every corner,  is still accepting book donations. 
Mayor Lazatin has also asked the help of the National Library to provide books for the café.
In February 2020, Manuel and Bonus-Llego conducted an ocular visit at the Tala Orani Cooperative Coffee Shop and Processing Facility in Barangay Tala, Orani, Bataan to assist the Angeles City Government in its pursuit to provide a livelihood program for coffee farmers in the city.