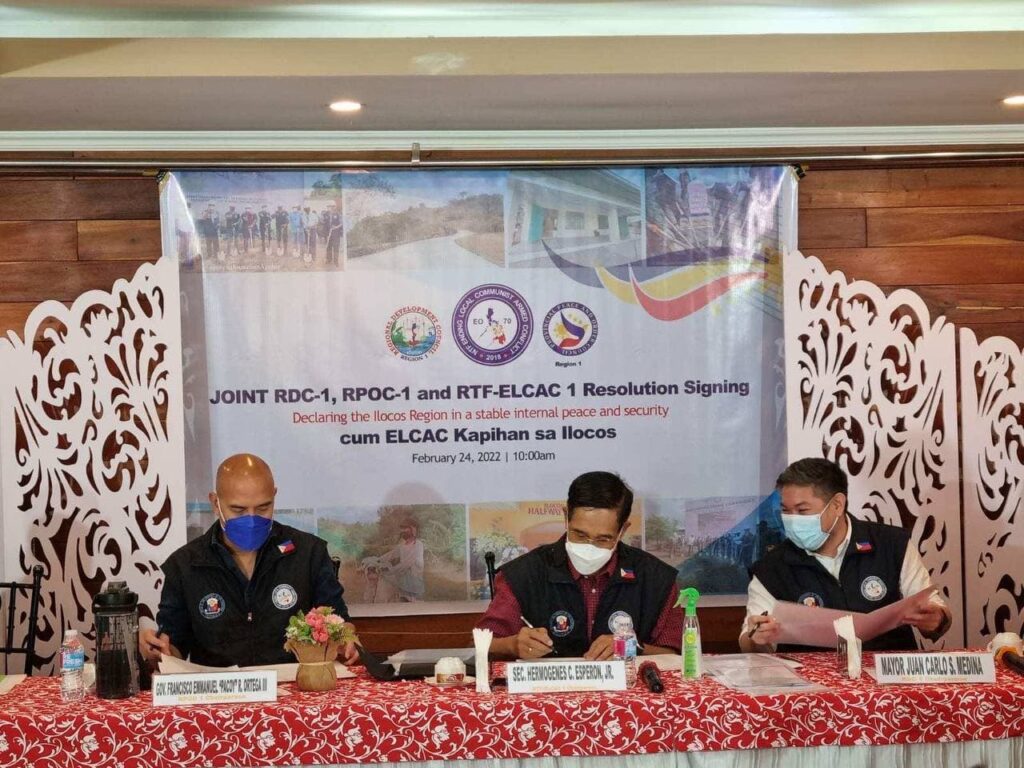 FORT MAGSAYSAY, Nueva Ecija — The Commander of the 7th Infantry (KAUGNAY) Division, Philippine Army Major General Andrew D. Costelo PA lauded the Ilocos Region for being the first region in the whole country to declare a state of Stable Internal Peace and Security on Thursday, February 24, 2022.

Major General Costelo attributed the success of the Ilocos Region to the implementation of the programs under Executive Order No. 70 through the 'whole-of-nation' approach as it resulted in the clearing of the CTG's influence in the region.

The declaration followed after the Joint Regional Development Council 1 (RDC) and Regional Peace and Order Council 1 (RPOC), and the Regional Task Force (RTF-ELCAC) 1 issued Resolution No. 1 series of 2022 at the EM Royalle Hotel & Beach Resort in San Juan, La Union.

Brigadier General Krishnamurti A. Mortela, Commander of 702nd Brigade, said that Region 1 has attained stable internal peace and security status for the whole of 2021 following the dismantling of the Komiteng Larangan Guerilla-South Ilocos Sur (KLG-SIS).

Among the key indicators for the declaration was the absence of violent incidents caused by the CTG; the absence of armed groups; and the lack of support to the CTG from the community in the region.

Meanwhile, MGen Costelo reiterates the Army's commitment in its thrust to put an end to communist insurgency in the whole 7ID Area of Responsibility.

"Malaking achievement ito sa Ilocos Region in terms of development kasi papasok na nang tuloy-tuloy ang mga investors as they are confident sa peace and security situation sa lugar," said MGen Costelo.

National Security Adviser Sec. Hermogenes C. Esperon Jr., at the same time the RTF ELCAC 1 chairperson and Cabinet Officer Responsible for Development and Security in Region 1; Northern Luzon Command Commander Lt. Gen. Ernesto Torres Jr.; and the members of the Regional Development Council, Regional Peace and Order Council, and RTF-ECAC 1 also attended the ceremony.