THE local government unit of Municipality of Guiguinto, Bulacan in collaboration with Bulacan and Municipal Environment and Natural Resources Offices conducted its 4th Refill Revolution and 3rd Recyclables Collection program held at Guiguinto Municipal Athletic and Cultural Center on Thursday, September 22, 2022.
Mayor Agatha Cruz encouraged Guiguinteños to beat plastic pollution by asking them to participate in the 'Refill Revolution' program of the Department of Environment and Natural Resources – Environmental Management Bureau (DENR-EMB), through Provincial and Municipal Environment and Natural Resources Office.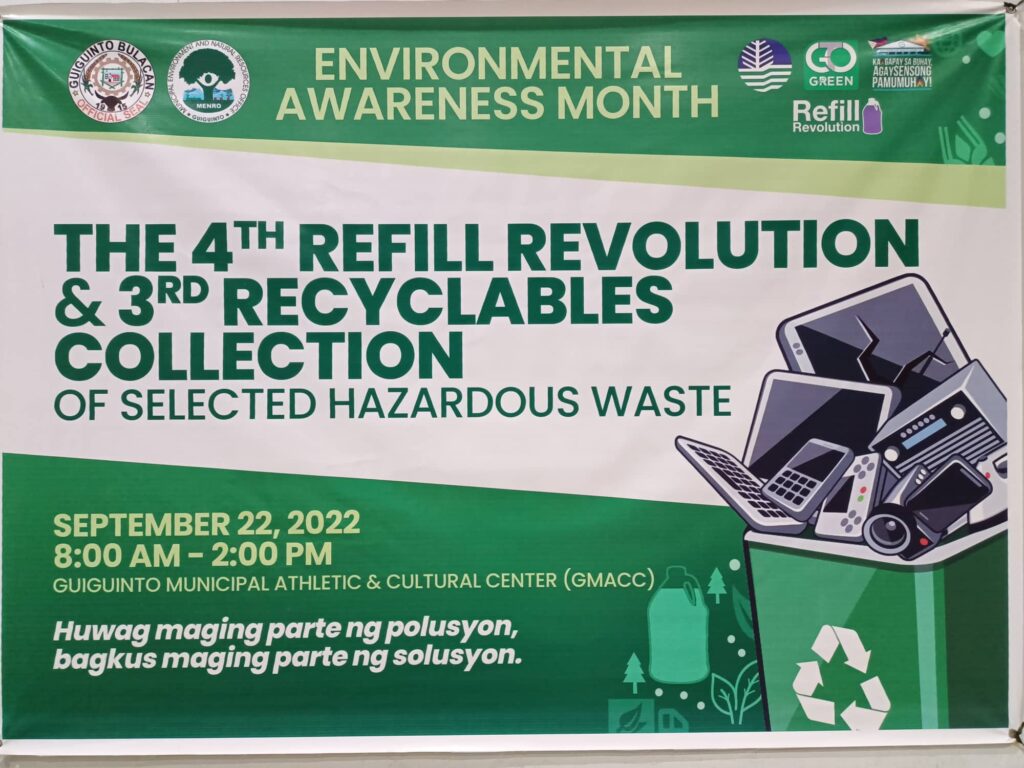 According to the mayor, the type of campaign is to address the problem in solid waste materials by decreasing the use of disposable package items and part of the Environmental Awareness Month celebration in reducing disposable wastes materials. 
She said that it is a very challenging particularly in segregating solid waste materials that should be practice as it is a holistic approach for the well-sake of the environment.
The program also was a series of refilling wherein participants who bring their own plastic bottles and containers may avail of household liquid products and detergents, condiments, and toiletries lower than the existing retail prices.
"Raising awareness to lessen plastic production, consumption and packaging will lead to a healthier environment and to promote an environmental-friendly municipality, so that families would be encouraged to reduce the usage of plastics at home," Cruz said.
She added that the program is to continue their advocacy to publicize an economical way to reuse bottles and reduce the amount of plastic packaging that each household makes.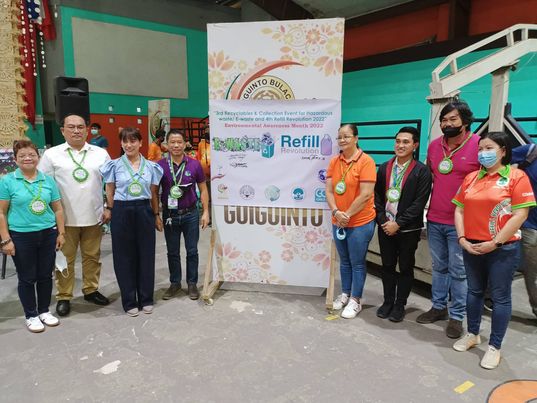 For his message, Governor Daniel Fernando represented by Bulacan ENRO Atty Julius Degala said that important activity like this bring together people, businesses, and institutions to work as one for the environment.
The governor also thanked the Guiguinto LGU, private sector, barangay council and Guiguinteños who participated in the event. 
As part of her commitment to the campaign, Mayor Cruz said that the municipal government of Guiguinto and its 14 barangay captains vowed to support and took the challenge of war against plastic pollution.
It was learned that preventing or decreasing the amount of waste created by a disposable packaging material will be a very difficult task, but with the implementation of these different refill processes, it may still be possible, Cruz added.
Other activities introduced as part of the recyclables program are the recycled garden pots through mixed cements and disposable/ old rags and clothes; Bokashi Ball making using garden soil, coconut peat, soil conditioner, EM Plus and molasses; Concrete hollow blocks and Eco Bricks making using shredded disposable plastic wrapper.
It also promotes the "Guintong Likha" recycled products made in plastic wrapper such as bags, coin purse, pouch, tissue holder, shoulder bag and baskets.