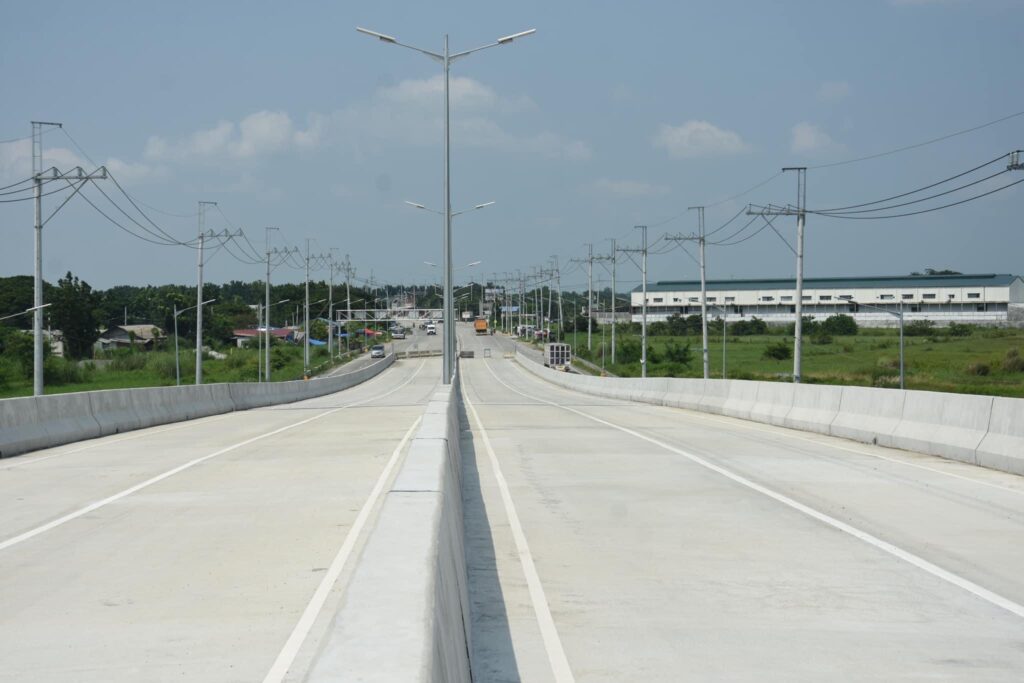 The Department of Public Works and Highways (DPWH) is looking forward to open this coming October 2023 additional two (2) lanes to boost the vehicle carrying capacity of the Arterial Road Bypass Project in the Province of Bulacan.
Senior Undersecretary Emil K. Sadain, in-charge of DPWH infrastructure flagship projects, said that the opening of the 7.74-kilometer widened section from Brgy. Tambubong to the Philippines – Japan Friendship Highway or Daang Maharlika Highway in Barangay Maasim including the 318-meter flyover at the intersection along Kalsadang Bago and a 36.9-meter bridge all under contract package (CP) 4 of Arterial Road Bypass Project-Phase 3 in San Rafael, Bulacan will be recommended to Secretary Manuel M. Bonoan to serve the growing number of motorists traveling and in time for the anticipated long-weekend for the Barangay Election and observance of traditional Undas or All Soul's Day.
"We are pleased that the section from KO49 + 625 to KO57 + 366 undertaken by Sino Road & Bridge Group Co. Ltd is complete and punch listing by DPWH technical personnel will commence anytime to ensure safety and functionality of the newly paved road and constructed bridge and flyover", said Senior Undersecretary Sadain following his September 8, 2023 inspection together with Project Director Benjamin A. Bautista and Project Manager Hermie Sablan of DPWH Unified Project Management Office – Roads Management Cluster I (Bilateral).
To ensure the completed project particularly the flyover and bridge is safe and ready for public use, common items to include in the punch list are structural integrity by checking for any visible cracks or damage to the structure, securely in place guardrails and barriers, road surface, lighting, and drainage systems to prevent water accumulation.
Once the punch list is complete, any identified issues will be addressed promptly this September and October to ensure that the project is safe and ready for public use.
According to Senior Undersecretary Sadain, CP 4 is directly connected to CP 3 completed in 2021 by Shimizu Corp. and FF Cruz and Co., Inc. covering the construction of 2.22-kilometer two (2) more lanes for the westbound direction encompassing one (1) of Luzon's longest bridges across the Angat River in Bustos, Bulacan.
From the initial stage of two (2)-lane, two (2)-way traffic under Phase 1 and 2, Phase 3 under loan agreement no. PH-P266 between the Government of the Philippines and Japan International Cooperation Agency (JICA) involves widening of the entire 24.61 kilometer stretch of Arterial Road Bypass Project or most commonly referred as Plaridel Bypass Road traversing five (5) municipalities of Bulacan namely: Balagtas, Guiguinto, Plaridel, Bustos, and San Rafael.
The Arterial Road Bypass Project – Phase 3 was divided into four (4) CPs and implemented by DPWH Unified Project Management Office – Roads Management Cluster I (Bilateral).
This road widening project is expected to alleviate traffic congestion and improve the economic activities and productivity in eastern part of Bulacan and the adjacent province of Nueva Ecija", added Senior Undersecretary Sadain.
Meanwhile, overall progress of work for CP 1 and 2 from Sta. 34+900 in Burol, Balagtas to Sta. 47+400 in Bustos under contract awarded to C.M. Pancho Construction Inc. is at 63 percent completion rate to date.
CP 1 and 2 aim to provide two (2) additional lanes of 12.72-kilometer portland cement concrete pavement on a pavement thickness of 35 centimeters on cement treated base with a carriageway of seven (7) meters including construction of seven (7) moderate to short bridges, one (1) flyover and one (1) overpass, the extension of ten (10) reinforced concrete box underpass for farm equipment and animal crossing, 16 at-grade intersections, drainage, slope protection, and other miscellaneous works.
DPWH has also started working on the rehabilitation/replacement of damaged concrete pavement as a result of overloading on intermittent section with a new pavement thickness to accommodate the new load demand.
"Several sections are dilapidated due to overloading and need to be rehabilitated, for a safer and more convenient travel, hence, it is expected that traffic flow would be a bit inconvenient. We apologize to the public for the inconvenience but rest assured that better transportation access would be felt by our motorists and the public once works are completed," said Secretary Bonoan.
The DPWH has also put up a weighbridge station at the Bustos section of Plaridel Bypass in line with the effort to intensify anti-overloading operations under Republic Act 8794 in ridding overloaded vehicles especially trucks to protect highways from damage caused by overloading and prevent accidents as they present direct danger against other motorists and commuters.
SOURCE: DPWH Region 3 Office