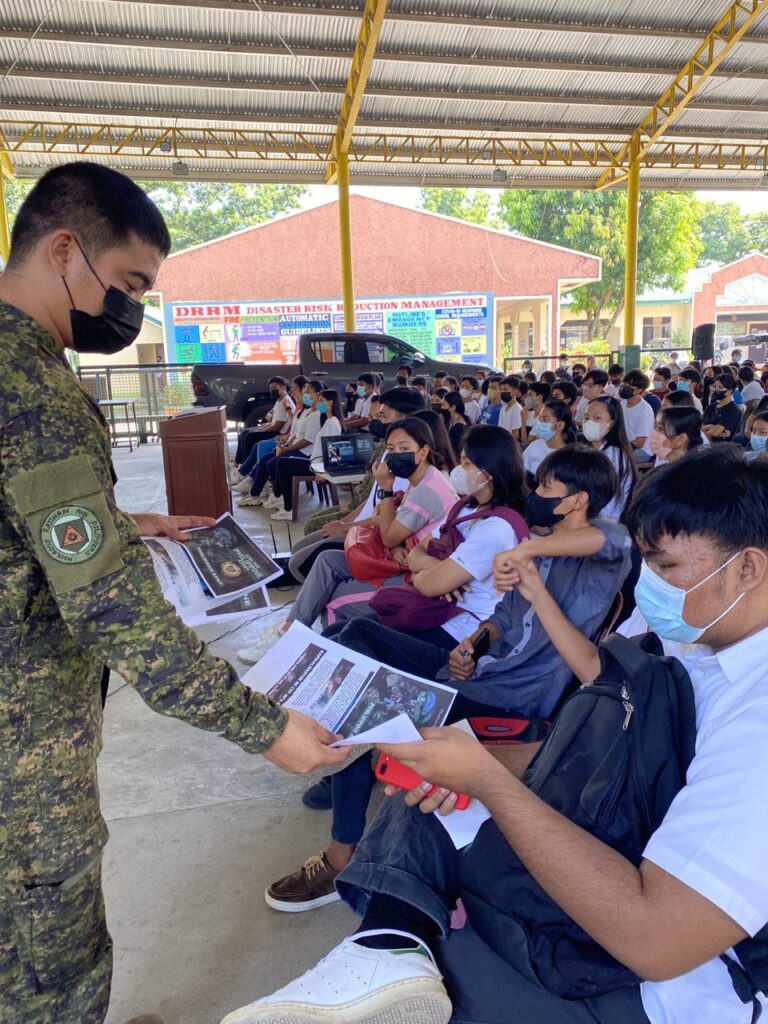 FORT MAGSAYSAY, Nueva Ecija – To increase awareness of the youth and student sectors on the deceptive recruitment and infiltration of the Communist Terrorist Groups (CTGs), the 84th Infantry (Victorious) Battalion in coordination with the Department of Education conducted lectures to the 320 students and teachers of Doña Juana Chioco National High School in Brgy San Antonio Weste, Lupao, Nueva Ecija on June 15, 2022.

According to 1st Lieutenant Arnold A Quiñon, Civili-Military Operations Officer of 84IB who facilitated the school symposia, the activity aims to educate our students and teachers on how these communist terrorists manipulate, exploit, and deceptively recruit the youth sector.

"These CTGs exploit the youth and students as they considered them the lifeblood of the communist terrorism, being the source of its ideologies and political cadres, and for possessing attributes; idealistic, curious and energy". 1st Lt Quiñon said.

During the open forum, alias "Ka May", a former rebel shared also her personal experiences on how CTGs brainwash and exploit students to join the communist terrorism in the province.

Ms Christine F Umali, Assistant School Principal III, is thankful for the Army's 84IB for the relentless effort in providing the youth and student sectors as well as the teachers necessary informations on how to avoid and stop the recruitment in schools by the communist terrorist groups.

In an interview with the Kaugnay News TV, Ms Kimberly Vania, a grade 12 student and one of the participants said that, "Ang natutunan po namin dito ay ang CPP-NPA can destroy our family, our future and pati narin yung government kaya naman bilang isang kabataan ay dapat panindigan namin na ang Kabataan ang Pag-asa ng Bayan.  

Meanwhile, Lieutenant Colonel Enrico Gil C Ileto, Commanding Officer, 84IB Thankful for the Department of Education (DepEd) for supporting the endeavor and assured the Novo Ecijanos that the Victorious Troopers will continue its relentless efforts on educating the youth on the CTGs deception strategy of recruitment until no more students will ruin their future and lives to a senseless ideology.

On the other hand, the Commander of 7th Infantry (Kaugnay) Division MGen Andrew Costelo PA, applauded the effort of the 84IB on raising the awareness of the youth about the deceptive recruitment and infiltration of the Communist Terrorist Groups (CTGs). "Bilang mga kabataan isa kayo sa mga pinaka vulnerable na target ng mga CTG upang mahimok , let us be aware of the wrong ideology that they inculcate to the young generations to fight against the government."