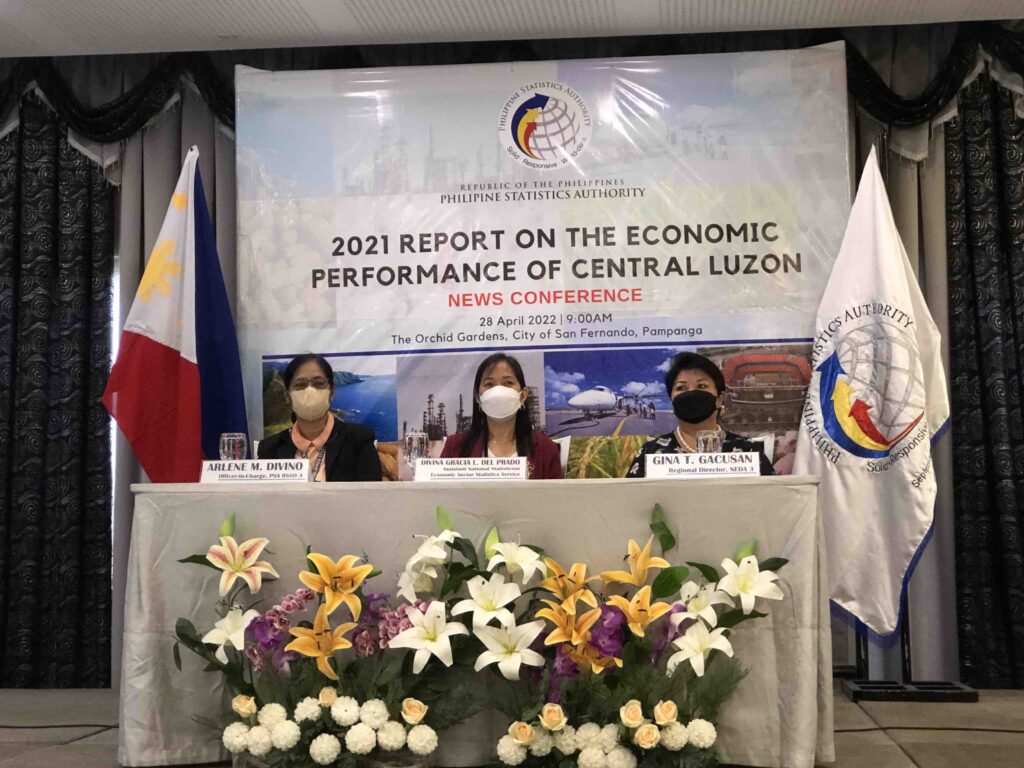 CITY OF SAN FERNANDO, Pampanga — Central Luzon economy has started to bounce back from its losses brought about by the COVID-19 pandemic.
This as the Philippine Statistics Authority (PSA) reported that the region's economy grew to P2.02 trillion in 2021 from P1.88 trillion in 2020, translating to a 7.4 percent increase in 2021 from a 13.9 percent decline in 2020. 
With this, National Economic and Development Authority (NEDA) Regional Director Gina Gacusan emphasized that the region is performing better compared last year, and to the other regions, but should strive more in attaining its targets.
"We are not yet back to the level that we were before the pandemic. We are short by P162 billion. Compared to 2019, our shortage is small…Now, our shortage is very big as we should have by now at least P2.45 trillion based on targets if COVID-19 did not happen to us," she said.
PSA shared that Central Luzon's economic performance is brought by the increase in its two major sectors affecting the Gross Regional Domestic Product (GRDP). 

These include the Services Sector, which accounts for 46% of the GRDP, and is rebounded to 5.8%; and the Industry Sector, accounting to 42.2% of the GRDP, which grew to 13.8%.
The Agriculture, Forestry, and Fisheries Sector, which contributed 11.8% to the GRDP, meanwhile declined to 6%. 
Despite the increase, NEDA stated that the figures are far from this year's target as the Services Sector only attained 85%; the Agriculture, Forestry, and Fisheries Sector reached 83%; and the Industry sector got only 80%. 
Given this, Gacusan highlighted that Central Luzon must tap the national government approved ten-point economic agenda to fast track its recovery including the strengthening of healthcare capacity, and accelerating and expanding vaccination to restore people's confidence to go outside.
"We have to reopen the economy. We have seen how much closing the economy cost us. You cannot put a value on people who died, but how about the number of people who are suffering? Those who have lost their jobs? Those who became poor because we have closed the economy because we are so afraid?," she added.
The director also said the region must expand the public transport capacity where commuters are able to travel freely especially those who are working in Metro Manila given that there is a difficulty in finding transport vehicles entering the place.
Also, NEDA underscored that face-to-face learning in schools should be resumed as the Philippines is the only country in the world that closed all schools for two years.
"We are worried because what kind of nurses, doctors, dentists, accountants, engineers, will we produce without them being given actual instructions in the past two years? What kind of students will we pass? What we have done is very frightening. We are going to pay heavily on the quality of education," Gacusan pressed.
She also said that restrictions on domestic travel should be reduced as the region's economy grows when money from the outside comes in, given now that the remittances of the Overseas Filipino Workers are going down.
Apart from these, NEDA said Central Luzon must create jobs, and promote entrepreneurship so that the businesses could increase employment.
"We have to produce more food. About 37-50% of our income goes to food. This is very important because we do not just have a problem with poverty. We have a problem with food sufficiency," Gacusan added.
The region could sustain its economic recovery by producing goods for the domestic market and not rely on imports; monitor food inflation closely to protect the poor; encourage women to get jobs as their labor force participation rate is only 50%; and increase investment promotion to attract more investors.
SOURCE: Jag Lyra D. Costamero (PIA3)