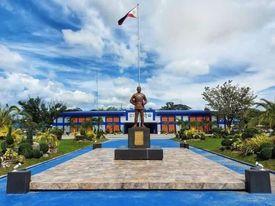 Camp Olivas, City of San Fernando, Pampanga – The 2023 Barangay and Sangguniang Kabataan Elections held on Monday, October 30, in Central Luzon were marked by overall peace and order, with no election-related incidents reported. 
Police Regional Office 3 Director PBGen Jose Hidalgo Jr. credited this achievement to the combined efforts of law enforcement, the Commission on Elections (COMELEC), and partner agencies, as well as effective community engagement initiatives.
"The heightened presence of police and military personnel, in collaboration with the COMELEC and our partner agencies, as well as extensive information dissemination and community engagement activities conducted by our field commanders, significantly contributed to the successful and orderly conduct of the 2023 Barangay and Sangguniang Kabataan Elections in Region 3," stated by PRO3 top cop. 
Even in the 47 identified election areas of concern, no election-related incidents occurred, exemplifying the effectiveness of its  security measures.
He also extended his appreciation to the dedicated men and women of the Police Regional Office 3, the COMELEC, and our armed forces (AFP) counterparts for their outstanding performance in executing their election duties. 
Hidalgo also acknowledged the valuable support of media practitioners and the general public, which played a crucial role in ensuring a safe and secure BSKE 2023.
Security remains tight as personnel oversee the secure transportation of ballot boxes from polling precincts to the COMELEC office.