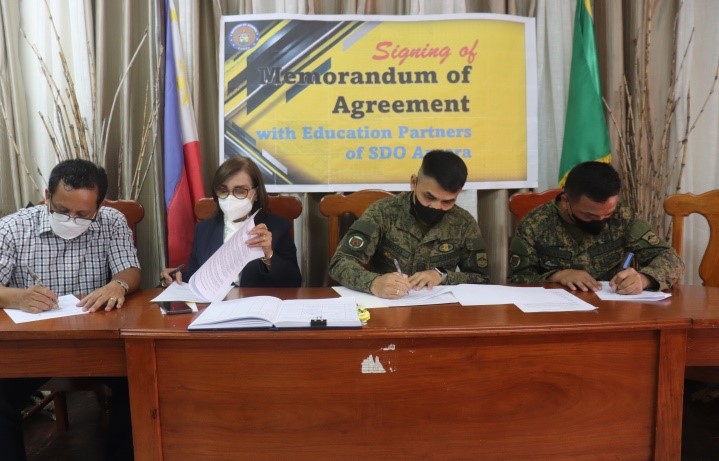 FORT MAGSAYSAY, Nueva Ecija – The School Division Office of Aurora-Department of Education (DepEd) and 91st Infantry "Sinagtala" Battalion teamed up for the implementation of Youth or Campus Infiltration of Communist Party of the Philippines-New People's Army to the students of Grade 9, 10, and Senior High School on August 30, 2022. 
The signing of the Memorandum of Partnership was made between School Division Superintendent of Aurora Dr Catalina P Paez and 91st IB Commanding Officer Lieutenant Colonel Julito B Recto, Jr, and witnessed by DepEd – Aurora and 91st IB officials at the School Division Office Aurora, Barangay Bacong, San Luis, Aurora.
Under the Partnership, DepEd will render support to the efforts of the 91st IB in lawfully reaching out to Filipino students who shall receive education from the DepEd about ending local communist armed conflict. Also, DepEd allows the conduct of a Youth Information Awareness Campaign in the vicinity of pre-identified schools.
On the other hand, the 91st IB will commit to implementing Youth Information Awareness Campaign and maintain coordinative linkage with the DepEd by providing the DepEd and the School head of the school where the program shall be held, Allowing the DepEd to conduct monitoring and evaluation of the implementation of the program.
Lt Col Recto Jr said that 91st IB is prepared to help the DepEd in implementing blended learning and is established to synchronize the movement of the government to end the five-decade-long atrocities and abuses committed by the Communist Party of the Philippines.
"Our objective is to communicate with the student matters about the local communist armed conflict through the implementation of the program Youth Information Awareness Campaign wherein competencies enable them to realize their full potential and contribute meaningfully to building the nation," Lt Col Recto Jr said.
Meanwhile, Major General Andrew D Costelo, Commander of the 7th Infantry (Kaugnay) Division expresses his utmost appreciation to the DepEd Aurora for trusting the 91st IB in securing the welfare of the students in equipping them with proper knowledge in CPP-NPA deceptive recruitment.