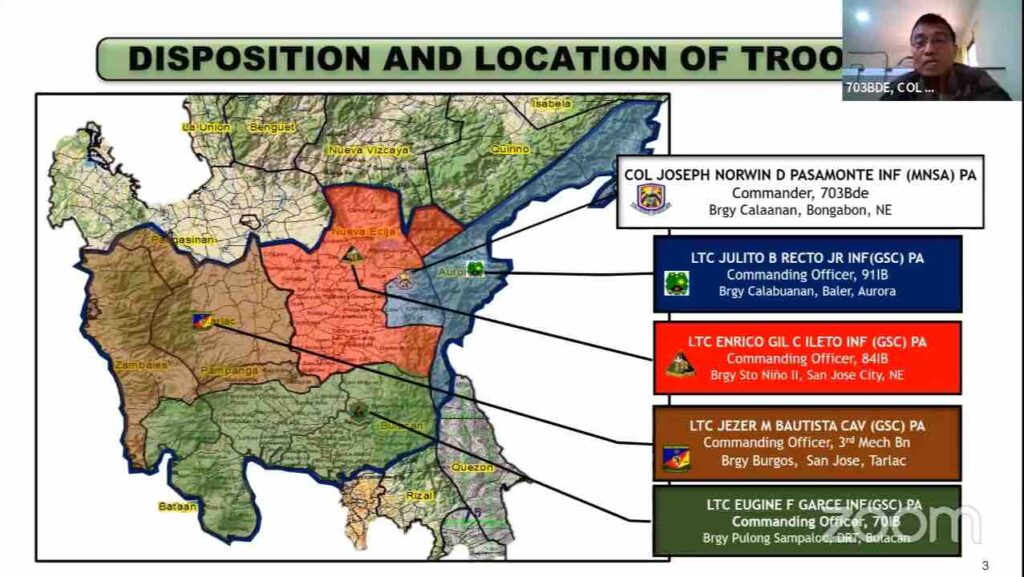 CITY OF SAN FERNANDO, Pampanga — Army 703rd Infantry Brigade has intensified its security operations to monitor possible threats posed by Communist Terrorist Groups (CTGs) ahead of the 2022 National and Local Elections.
In a virtual presser, Brigade Deputy Commander Colonel Allan Jose Taguba emphasized that they are having combat operations in the different inter-land areas of Central Luzon to prevent the atrocities of the CTGs.
"We have monitored CTG presence in certain areas that we are following now. Since January, our troops have been in the mountains so that if we monitored their movement, we could react immediately," he said.
He added the brigade is focusing its operation in hotspot areas in the region which are the boundary of Tarlac, Zambales, and Pangasinan; boundaries of Nueva Ecija, Aurora, and Nueva Vizcaya; and boundaries of Bulacan, Aurora, and Quezon for possible violence caused by the said groups. 

In addition, Taguba highlighted that no election-related violence from the CTGs and their front organizations has been recorded yet, but the army will be deploying quick reaction forces starting May 1 in case of eventualities.
"Our subordinate units will be coordinating with the Philippine National Police, and Commission on Elections (COMELEC) to determine the clustered areas or the areas of concern. These areas are where we will be focusing on so that they can immediately react in the least possible time," he stated.
The official shared that they will also strengthen intel monitoring for spotting private armed groups, and others who are trying to cause riots or violence during the election day.
Also, Taguba ensured that during the election day, the battalion will provide security support and make available with least time possible the land assets, communication system, and other equipment in support to COMELEC.
"This is for the implementation of election laws, rules and regulations to ensure free, orderly, honest, peaceful, and credible conduct of the National and Local Elections," he said.