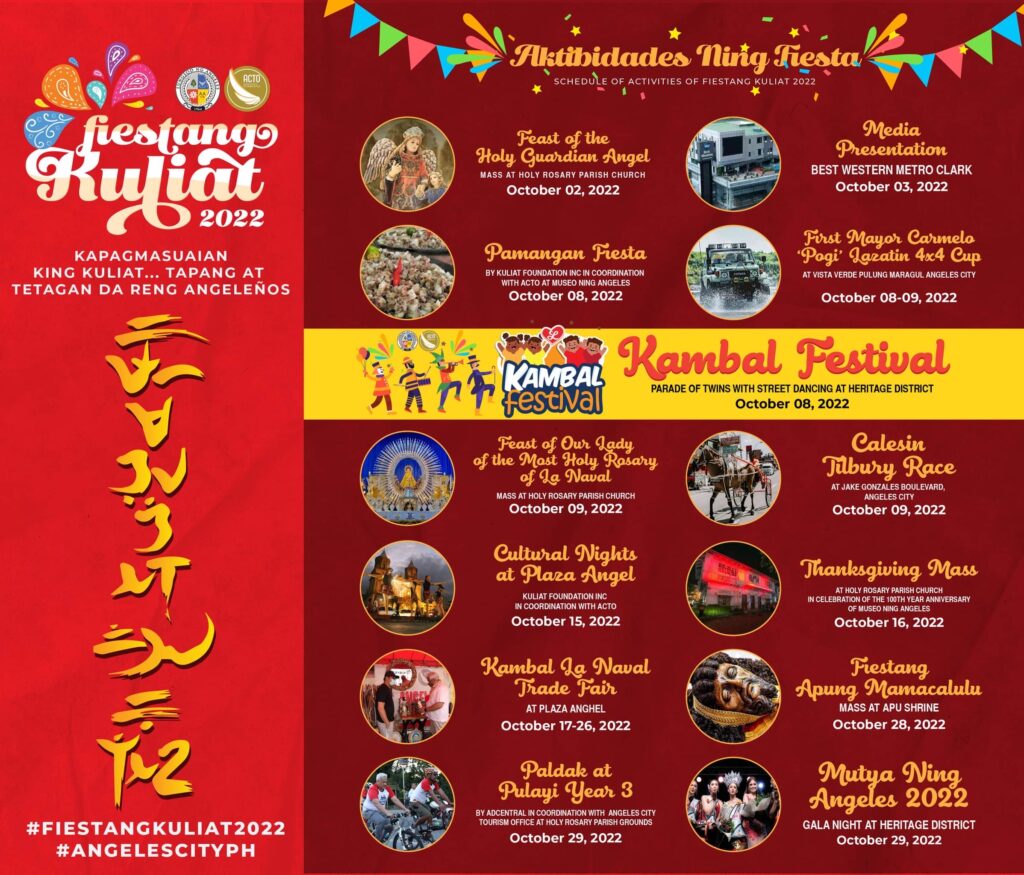 ANGELES CITY – The city government under the leadership of Mayor Carmelo "Pogi" Lazatin, Jr. will hold the 30th celebration of Fiestang Kuliat, with a line-up of activities to commemorate the event.
"This year's celebration of the Fiestang Kuliat is once again a testament of our kababayans' resiliency. From 1991 during the Mt. Pinatubo eruption, and now with the Covid-19 pandemic, napatunayan po natin ang katatagan ng mga Angelenos sa gitna ng anumang pagsubok," Mayor Lazatin said.
Dubbed as "Kapagmasusian king Kuliat, Tapang at Tetagan da reng Angelenos", among the highlights of the celebration is the Kambal Festival, which will be held on October 8 during the La Naval festival (every second Sunday of October). The Kambal Festival will be participated in by the city's barangays, with a grand prize of P100,000 for the winner.
This was also revealed by Lazatin's Chief Adviser IC Calaguas, who presided over the preparation meeting for the Fiestang Kuliat 2022 on Aug. 31, 2022.  
Mutya ning Angeles 2022 is set this Dec. 8, 2022, with the grand winner receiving ₱1 million worth of prizes. The media presentation for the candidates will be on Oct. 3, 2022. 
Apart from the grandest Kambal Festival and the prestigious pageant, there will be significant religious celebrations such as the Triduum (September 29, 6:30 AM); Mass at the Holy Rosary Parish Church for the Feast of the Holy Guardian Angel (Oct. 2, 7 AM); Feast of Our Lady of the Most Holy Rosary of La Naval at HRP Church (Oct. 9); and Fiestang Apung Mamacalulu Mass at Apu Shrine on Oct. 28.
To promote and boost the city's tourism and local business, there will also be a Pamangan Fiesta featuring Kapampangan food on Oct. 8 organized by the Kuliat Foundation Inc. in coordination with the Angeles City Tourism Office; Calesin Tilbury Race at Jake Angeles Boulevard on Oct. 9, 1 PM; and a Trade Fair at Plaza Anghel on Oct. 17 to 26, displaying the One Town One Product store of the city managed by the Angeles City Economic Development Investment Promotions Office supervised by Executive Assistant IV Reina Manuel.
To further showcase talented youth, a Cultural Nights at Plaza Angel will be held on Oct.15, a joint event of the KFI and ACTO. 
In addition, online Tigtigan Terakan King Dalan (TTKD) is set on Oct. 28; sports activity of Puldak Pulayi will be hosted on Oct. 29; as well as an off-road activity on Oct. 8 and 9, called the First Mayor Carmelo "Pogi" Lazatin, Jr. 4×4 cup at Vista Verde, in coordination with Angeles City 4-Wheelers Club Inc. and Angeles City Sports Office.