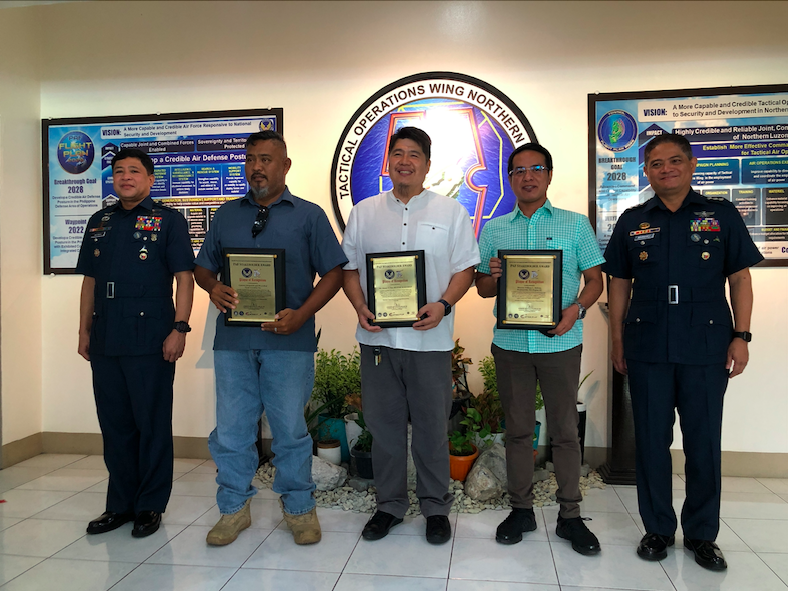 CLARK  — Philippine Air Force (PAF) conferred this year's outstanding stakeholders award to three of its partners in Northern Luzon as part of its 75th founding anniversary.
The activity aims to recognize the noble and crucial contribution of said stakeholders to the successful attainment of the wing's mission for the benefit of the ordinary citizens and vulnerable sectors of the society.
In the message of PAF Commanding General Lieutenant General Connor Anthony Canlas Sr. delivered by Tactical Operations Wing Northern Luzon Deputy Wing Commander Colonel Ulysses Marquez, he underscored that the stakeholder awardees' contributions not just fueled their day-to-day operations and activities, but also lifted their morale and capacities to perform better. 
"All these laid the building blocks for a transformed Air Force working for our nation's pride. The help that you have extended to us will surely go a long way not just in improving PAF as an organization, but also in elevating the lives of the many Filipino people reached by our services," he said.
He pledged that PAF will continue to create a harmonious relationship with its stakeholders for the betterment of the people and the country.
Also, Marquez lauded the awardees for their passion and involvement in the force's activities which aided them in the fulfillment of the standard of human service.
"In these times of daunting challenges and uncertainties brought about by the COVID-19 pandemic, and the effects of the Ukraine invasion by Russia, the support and assistance you have given is truly appreciated as it not only helped us in fulfilling our mandate, but also inspired us to better serve our nation knowing that fellow Filipinos like you trust and support us," he stated.
Awardees include Philippine Information Agency Central Luzon Regional Director William Beltran for serving as a regular co-host of the Usapang Pangkapayapaan, Usapang Pangkaunlaran Northern Luzon program which communicates the activities of various government agencies on ending local communist armed conflict.
"We should always remain humble and partial. Let us always make it a point to give the people the best service they could get from us which they only deserve. That is the major factor that the Philippine Air Force is exemplifying already," Beltran stated.
Also recognized is Genram Integrated and Diversified Farm Learning Site, whose partnership with Tactical Operations Group 2 created impact to the civilian populace by offering programs on livelihood training and community services particularly for former rebels and other sectors vulnerable to communist-terrorist-groups recruitment.
Another awardee is Jelexie Bakeshop, a stakeholder of Tactical Operations Group 3, for its support in activities benefitting the populace of Tarlac province.
SOURCE: Jag Lyra D. Costamero (pia3)