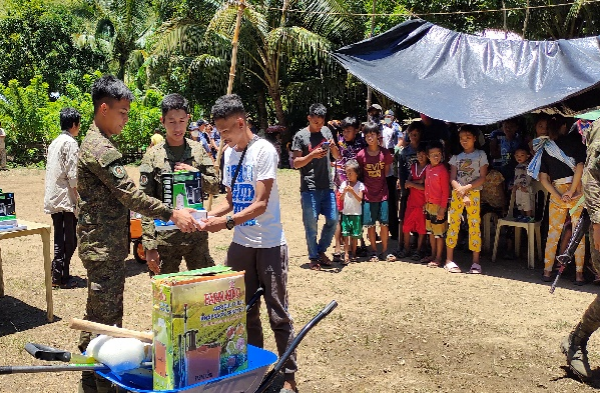 FORT MAGSAYSAY, NUEVA ECIJA – The 24 Infantry (Wildcat) Battalion sustained its effort in ending local insurgency by providing the residents of Brgy. Anayan, Tineg, Abra means of livelihood through the distribution of farm tools and equipment, seeds, fertilizers and solar electrification on July 15, 2022.
Lieutenant Colonel Ricardo GB Garcia III, Commanding Officer of 24IB led the turn-over of 38 units each of Garden Sprayers, Shovels, Rakes and Garden hose including 200 kgs of fertilizer to the geographically isolated and displaced area (GIDA) which can only be reached by hiking for 2-3 days.
Likewise, 19kgs each of vegetable seeds such as Ampalaya, Eggplant, String Beans, Pechay and Spinach were distributed to start the farming activities in the community.
In addition, 38 pcs of Solar Flood Lights and 38 pcs of AM/FM Solar Powered Radios were provided to bring light and news and information in every household.
The program was successfully completed with the help of Tactical Operations Group 2 (TOG2), Philippine Air Force who provided air transport utilizing its new S-70i Black Hawks.
Moreover, the activity was done in collaborations with LGU Tineg Abra, Brgy. Officals of Anayan and Tineg PNP.
In his statement, Lt. Col. Garcia III acknowledged the assistance of Civil Military Operations Regiment (CMOR), who facilitated the donation of the said farm implements and solar equipment from JAIME V ONGPIN FOUNDATION INC.
On the other hand, MGen Andrew Costelo PA, Commander of the 7th Infantry (Kaugnay) Division extended his appreciation and gratitude to the 24IB, PAF, local government unit of Tineg, Abra for the efforts of bringing the projects to affected communities and gave the beneficiaries of these projects pave way to improve people's life in Brgy Anayan, Tineg, Abra.