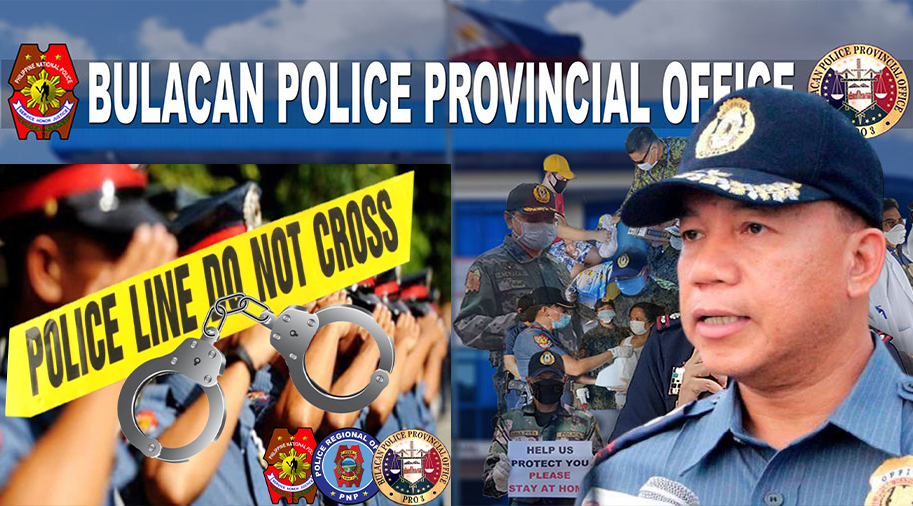 Camp Gen Alejo S Santos, City of Malolos, Bulacan — Two of Central Luzon's Most Wanted Person and 79 others suspects collared in one day Simultaneous Anti-Criminality Law Enforcement Operation (SACLEO) of Bulacan PNP on Friday.
PCol Manuel Lukban Jr. said, that the 65 combined operations from 21 Municipal and 3 City Police Stations and Bulacan 1st and 2nd Provincial Mobile Force Company (PMFC), and Provincial Intelligence Unit has resulted in the arrest of 81 suspects.
The Manhunt Charlie or the operation against wanted person resulted in the arrest of two (2) of Central Luzon's MWP identified as Marwin Morelos alias Awin and Marion Morelos alias Aaron for two (2) counts Frustrated Murder; Provincial Level-MWP identified as Reynaldo Fidel for Rape; and Municipal MWP identified as Gerold Bryan Estremera for Rape and Jayson Gutlay for Murder, while twenty-nine (29) other wanted persons were also arrested.
Meanwhile in the 21 anti-illegal drugs operations, a total of 35 drug suspects were arrested. Seized were 134 sachets of shabu with an estimated weight of 41.886 grams, and four 4 sachets of dried marijuana leaves with an estimated weight of 4 grams with a total dangerous Drug Board (DDB) value of two hundred eighty-five thousand six hundred twenty-four and eighty centavos (PHP 285,624.80) and one low power firearm.
On the other hand, 3 operations against illegal gambling resulted in the arrest of e11 individuals. Confiscated were assorted gambling paraphernalia and a total of two thousand, one hundred thirty-three pesos (Php 2,133) cash bet money.
16 firearms were surrendered for safe keeping in different operations conducted against loose firearms or "Oplan Katok".
This notable accomplishment of Bulacan police in the Simultaneous Anti-Criminality and Law Enforcement Operations of PRO 3 is the manifestation of its unyielding effort and relentless campaign against wanted persons, illegal drugs, loose firearms, illegal gambling and all other lawless activities. (PIO, Bulacan PPO)