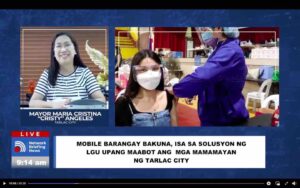 The city government of Tarlac has beefed up its COVID-19 vaccination drive through Mobile Anghel Bakuna sa Barangay program.
During episode of Network Briefing News on Wednesday, City Mayor Cristy Angeles highlighted their newly-launched Mobile Anghel Bakuna sa Barangay program that targets to increase the vaccination uptake.
"Under this program, our medical team continuously conducts house-to-house, sitio-to-sitio, and barangay-to-barangay vaccination from Monday to Sunday. We added more nurses to the mobile vaccination drive to strengthen our workforce," she said.
Angeles noted the Mobile Anghel Bakuna sa Barangay, which can cater three to four barangays per day, has already reached and inoculated 26 out of the 76 barangays in Tarlac City.
The mayor likewise mentioned the massive information dissemination drive explaining the effects of COVID-19 vaccine through radio programs and Facebook live updates to alleviate people's fear and hesitancy.
In terms of vaccination facilities, Angeles emphasized the establishment of vaccination hubs as a step further in taking care of people's health amid the pandemic.
"We encourage Tarlaqueños to visit our vaccination hubs and get their COVID-19 vaccine jabs," she added.
Also, the city government has already kicked-off its pediatric vaccination and has convened all private and public schools for the inoculation of students aged 12-17.