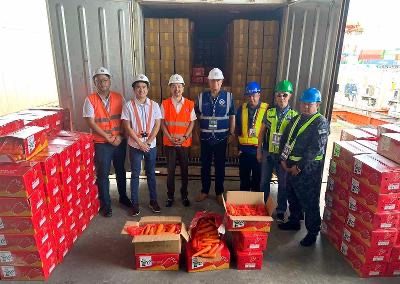 Subic Bay Freeport – In line with the mandate of President Ferdinand Marcos Jr. to run after agricultural smugglers, the Subic Bay Metropolitan Authority (SBMA) and the Bureau of Customs (BOC) Port of Subic apprehended nine 40-foot container trucks at the Port of Subic on Wednesday.
SBMA Chairman and Administrator Jonathan D. Tan, who personally went to the Freeport's container terminal for the inspection, said the nine containers were all declared as frozen lobster balls, which were consigned to Rianne Food Products.
The SBMA Chief added that the seized cargo arrived on November 3 from China with a declaration that the shipments all  contained at least 40, 000 cartons of frozen lobster balls.
Tan revealed that upon cargo check, the SBMA and the BOC found that the shipments contained fresh potatoes, carrots, radish, and broccoli in the amount of more than 42.6 million pesos.
The BOC Port of Subic seized the misdeclared shipments for proper disposition and appropriate action. Six other containers, also consigned to the same company, will be subjected to the same inspection procedure by the port authority and the customs bureau.
Meanwhile, Chairman Tan lauded the vigilance of the two agencies, stating that both the SBMA and the BOC Port of Subic are very much serious in implementing the President's mandate to go after agricultural smugglers and end illicit trade in the country.