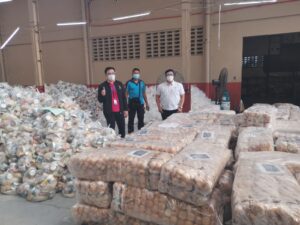 The San Miguel Corporation (SMC) has distributed nearly 2 million pieces of nutribun and pandesal breads in Metro Manila and neighboring provinces such as Bulacan while more than 200,000 families from poor areas in Manila continued to receive of food aid from the company.
Although the company's focus in recent months has been on vaccinating its employees against COVID-19, it still continues to help the poor affected by the pandemic, according to SMC president Ramon S. Ang.
"While vaccinating our employees and deploying medical personnel to various public vaccination sites became our focus these past couple of months, we never left our disadvantaged countrymen who are still struggling to cope with the pandemic. Many of our employees continue to devote their time and effort to make sure San Miguel can at least help the poorest of the poor avoid hunger on a daily basis, "said Ang.
From March 2020 to the present, San Miguel Mills has distributed 1,895,826 pieces of nutribun and pandesal in various places.
This includes a total of 8,000 nutribun sent weekly to Malolos, Tondo, Payatas, and Caloocan City through Petron stations in these areas.
Through SMC Better World Tondo, the company has already provided a total of 168,180 meals 74,099 grocery packages to 211, 253 families, as of September 2019.
San Miguel nutribun is high in dietary fiber and also full of iron and iodine. The breads are baked at the SMC facility in Sta. Rosa, Laguna and Pasig City. With the help of local government units, the Diocese of Malolos, Gawad Kalinga, and Philippine Business for Social Progress (PBSP), and other partners, we've managed to distribute breads where they are most needed, to ensure that the poorest of our countrymen don't go hungry during these difficult times, "said Ang.
He also thanked its partners for continuing to support  their various pandemic response activities.
Ang said, It is important to work together and help each other, continuing to observe health protocols, and get vaccinated when their turn comes to win over the pandemic.