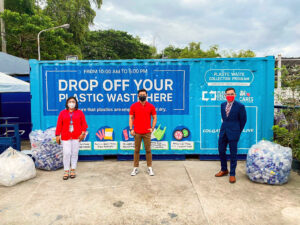 To help the locals in disposing their plastic waste responsibly, the SM City Marilao set up recently a designated collection site by rolling out its Plastic Waste Collection Program (PWCP) in Bulacan.
By this project, SM City Marilao hopes to promote sustainability and responsible solid waste management among consumers and communities.
"Apart from promoting sustainability in the province, SM's PWCP also aims to reduce plastic waste in landfills and bodies of water through proper plastic segregation and disposal" shares SM City Marilao Mall Manager Engr. Emmanuel Gatmaitan.
SM City Marilao Assistant Mall Manager Engr. Janette Aguilera also added that SM's PWC Program supports the United Nations Sustainable Development Goals (SDGs) 12, 13 and 14 which promotes sustainable consumption and production patterns, climate action, and promotion of conservation and sustainable use of marine resources.
Through the SM Cares and Plastic Credit Exchange (PCex); mall shoppers, communities, and individuals are encourage to bring their plastic waste daily from 10:00 AM to 5:00 PM and drop them off at the Blue Plastic Waste Container Van located at SM City Marilao's Parking lot.
The PWC program accepts all kinds of plastic wastes such as Polyethylene Terephthalate (PET) and High-density polyethylene (HDPE) bottles; plastic cups, lids, straws, and utensils, sachets and snack packaging; shampoo and detergent bottles, plastic bags, e-commerce pouches and small tires.
Gatmaitan added that waste plastics should be empty, clean, and dry.
Apart from the PWC Program, SM's other initiatives for the Environment in Bulacan include the Trash to Cash recycling market, annual green film festival which promotes environmental awareness to students and the Electronic Waste Collection Program that was launched last 2020.
Philippines is one of the top contributors of plastic waste in the world. A study found that a staggering 2.7 million tons of plastic waste are generated in the country every year, and an estimated 20 percent ends up in the ocean.