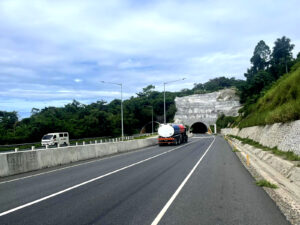 The expanded Subic Freeport Expressway (SFEX), the new road which promotes an efficient transport of basic commodities and other essential goods was lauded by transport and logistics companies.
"Roads are considered the arteries of our economy and improving the flow of traffic means faster delivery of goods and services. This is what the SFEX made happen with its expansion—the travel time of our trucks to and from Subic Port is now 50% faster. Our operations became more efficient. And most importantly, it increased the level of safety in driving," said Bernstein Estiandan, president of JA Global Logistics Solutions Inc.
Despite the pandemic, the NLEX Corporation completed this new expressway project in response to the need to increase business activities and facilitate the faster flow of goods and services going in and out of the Subic Freeport Zone.
Subic Bay Metropolitan Authority (SBMA) Chairman and Administrator Wilma T. Eisma also cited infrastructure projects such as the expanded SFEX are essential in the continuing development and operation of the Subic Bay Freeport Zone because having better access means more investments and livelihood opportunities.
"We envision Subic to be a globally-competitive investment and tourism destination and a world-class economic growth center. This is why we are strengthening Subic's capacity to take in more business and more jobs. The expanded SFEX because it is better and bigger, it brings in more business to Subic," Eisma said.
A total of 16.4 new lane kilometers, two new bridges in Jadjad and Argonaut, and a new tunnel were constructed to improve mobility, enable safer travel, and support the logistics and supply chain operations. The tollway company also installed LED lights, raised the elevation of the Maritan Highway-Rizal Highway-Tipo Road junction, and enhanced the area's drainage system.
Eugene Montejo, Manila Allied Services Head of Yello X Supply Chain Solutions Inc., attested to the convenience brought by the new road. "Mabilis at maayos ang biyahe namin habang nasa SFEX dahil malawak. Maayos din ang pagdaan ng mga truck namin sa tunnel. Safe nakakarating ang mga sasakyan namin sa pick-up sa Subic dahil sa SFEX," he said.
J. Luigi L. Bautista, president and general manager of NLEX Corporation noted that the expanded SFEX aims to spur investments and boost efficiencies of businesses in North and Central Luzon provinces.
"Our truckers and those in the logistics industries serve as lifeline maintaining critical supply chains during this pandemic. We are delighted that the new SFEX has been significantly beneficial for this sector that plays a key role in the economic recovery," Bautista said.