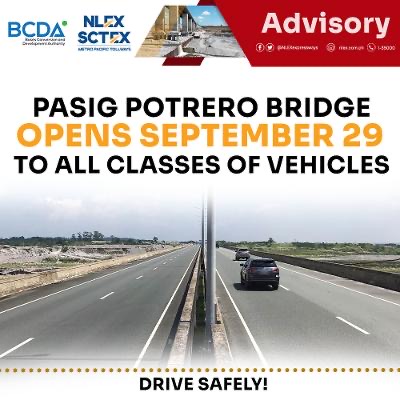 Good news to all SCTEX motorists!
NLEX Corporation officially reopened the SCTEX Pasig Potrero bridge to all vehicle classes on Friday, September 29 at 6:00 a.m.
"We are happy to announce that we are reopening the Pasig Potrero bridge to traffic after undergoing rehabilitation works.  Travel will again be more convenient and seamless as this will alleviate traffic for motorists coming from Clark to Subic, and vice versa," said NLEX President J. Luigi L. Bautista.
Bautista reassured the public that while the bridge is reopened, the company will continue the rehabilitation works to further strengthen the bridge.
It will be recalled that on July 16, NLEX Corporation, the concessionaire and operator of SCTEX, closed the bridge to all vehicles to conduct an emergency safety inspection and assessment due to constant heavy rains brought by the southwest monsoon and typhoon Dodong.
After a thorough assessment by a third party bridge expert, it was decided that the closure was necessary while repairs works were ongoing. This is  to ensure the safety of motorists as the heavy rains and strong river flow affected certain portions of the bridge.
The tollway company immediately proceeded with the emergency substructure strengthening works, but due to the unpredictable weather and the high water level in the area, the team encountered difficulties in facilitating the safety works.
"It was very challenging whenever heavy rain starts to pour. As much as we wanted to expedite the works, the heavy river flow and high water level in the area made it difficult for the team to proceed. There were times where we had to temporarily stop and wait for the weather to improve and water level to recede before we were able to resume," Bautista explained.
After undergoing another safety assessment, the bridge was reopened on August 7 to Class 1 vehicles while the strengthening works continue under the bridge.
NLEX, together with Bases Conversion and Development Authority (BCDA), the owner of SCTEX, will continue to relentlessly look for innovative ways to boost the safety and convenience of motorists traversing the entire 94-kilometer road.
The tollway company has been investing in various enhancement projects to upgrade the travel experience of every SCTEX motorists. These include the upgrading of roadway lights and signages, maintenance and improvement works for several toll plazas, pavement replacement and crack sealing, guardrail and fence repairs, RFID system enhancements, toll systems upgrade,Dinalupihan road raising, and Porac Gumain and San Matias bridges repair and upgrade.
For more information, traffic updates, and other announcements related to SCTEX, motorists may visit the NLEX Corporation social media accounts (Facebook, Twitter, Viber) or call its 24/7 hotline 1-35000.