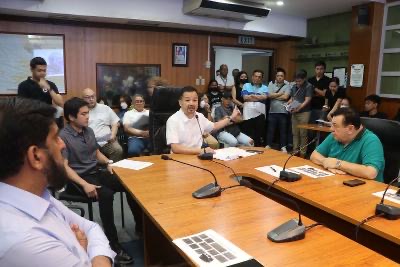 SUBIC BAY FREEPORT – Subic Bay Metropolitan Authority (SBMA) Chairman and Administrator Jonathan D. Tan warned port users here engaged in truck trading to follow protocol or get banned from doing business inside the Freeport.
Chairman Tan in a meeting with 100 stakeholders on Thursday said that the agency is clamping down on illegal activities that are proliferating in the Freeport.
One of the most common is underdeclaration of the weight of shipped trucks to reduce the payment of their duties and taxes. Also common is the fraudulent upgrading of the trucks' year model through bribery, aside from the irregular shortening of process time or skirting of port policies by truckers who want their shipments processed earlier than scheduled.
"This is a fair warning to everyone. The President told me to give you a chance, he told me to save the truck industry. The processing of imported trucks should be done as stated by law," he said.
"Most of the truckers here use bribes to speed up the processing of their papers. We will stop this illegal activity and will abide by the process on the releasing of trucks," he added.
The SBMA is in the process of procuring a weighing scale that will be used on November 15, providing the agency equipment to determine the actual weight of imported vehicles and improve the deterrence of illegal activities in the port area.
"You have until November 15 to straighten your businesses or we will revoke your permit. This order is coming from the President, and I will coordinate with BOC Commissioner Bienvenido Rubio to ensure that you are all following the protocols," he said.
The agency chief further admonished that no one should ask for money using his name, that he will give his number to the truckers so that if anyone tries to ask for money, they can contact him.
Tan said that for the past 30 plus years, this has been the norm in the Subic Freeport, adding that things will be different. "Ngayon bago na, kung hindi niyo magawa ng tama yan, I will have to revoke your permit," he concluded.