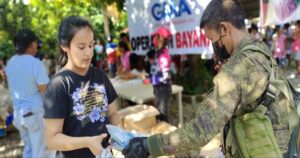 FORT MAGSAYSAY, Nueva Ecija – The 24th Infantry "Wildcat" Battalion and Civil Military Operations Regiment (CMOR) in partnership with GMA Kapuso Foundation deliver basic goods to highly affected families in Abra brought by the 7.0 magnitude earthquake that struck the province last July 27, 2022.
The GMA Kapuso Foundation brought ample relief goods to the people of Tayum and Bucay all of Abra with the assistance of 24IB, CMOR, civilian responders and other volunteers in the province.
More than six thousand individuals benefited from relief goods, hygiene kits, vitamins, slippers, and clean drinking water.
Mr. Aron Calma, production staff of GMA Kapuso Foundation Inc. said, "This help comes from those with good hearts who were used as instruments so that it can bring a good start."
Lieutenant Colonel Ricardo GB Garcia III, Commanding Officer of 24IB added that, "Convergence among partner agencies in extending assistance did not only bring help but also hope and joy to the Abrenians".
Meanwhile, Major General Andrew D Costelo, Commanding Officer of 7th Infantry (Kaugnay) Division extend his gratefulness to the 24IB, CMOR, GMA Kapuso Foundation, and civilian responder for the tireless effort of extending help to the most affected victims of the recent earthquake that devastated Abra.