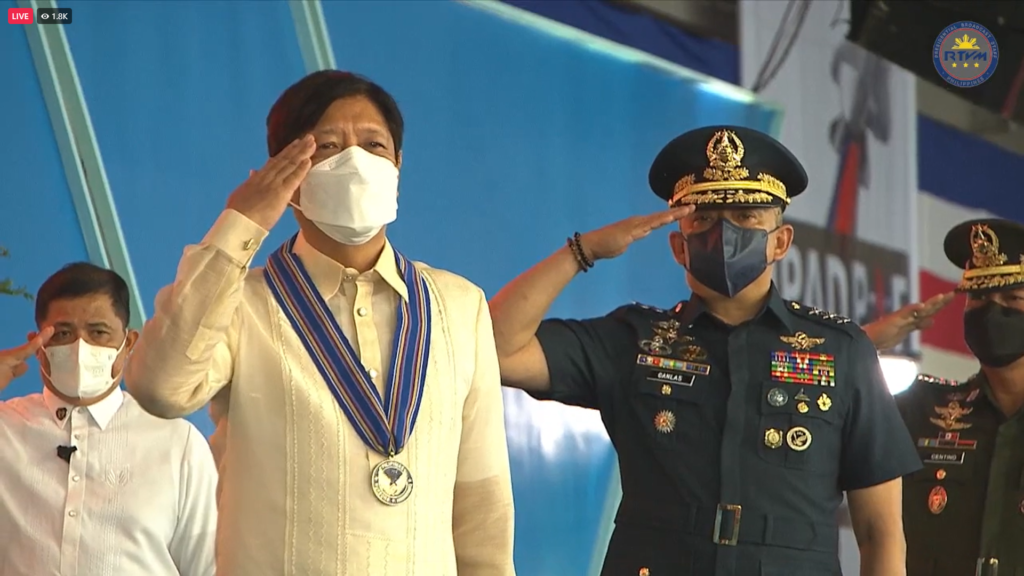 CLARK AIR BASE — President Ferdinand R. Marcos Jr. highlighted the significant contribution of the Philippine Air Force (PAF) towards nation-building. 
"As we fly and aim high for our country and people…today's event is a perfect time to recognize our nation's continued enhancement in air strength over the years—the air capability that we have used and continue to employ in our national effort towards nationhood," he said during the 75th anniversary of the service branch.
Marcos said the ongoing defense modernization efforts is in coordination with the basic prerequisites that would complement the current administration's vision for a stronger, bigger, and effective PAF.
This, he said is geared towards enabling PAF and Armed Forces of the Philippines as a whole, to defend and maintain the country's sovereign state, and to assist people in times of dire consequences and the realities of the present times. 
In his message, the President cited that a more modern aerial and surveillance capability is all the more felt given the territorial disputes that the Philippines is involved in. 
He added that this enhanced capability is also proven to be very critical in the Philippine military's efforts to protect the nation from local communist insurgents and the extremist groups in the South. 
Citing natural hazards such as volcanic eruptions and typhoons that frequented the country, the President said PAF also plays a fundamental and significant function by suitably and sufficiently providing transport aircraft helicopters and similar facilities during humanitarian assistance and disaster relief operations.
Given these crucial roles, Marcos said it is only appropriate that one of his first acts as President is to join PAF on the occasion of its 75th anniversary as a way to honor, acknowledge, and appreciate its outstanding personnel and units. 
"Your loyalty and commitment and love of country are definitely worthy of emulation not only for those in the military, but of all citizens of the Philippines. Our respect and admiration to all of you. You are what makes this 75th year even more meaningful and essential than it already is," he said. 
Highlights of the event include launching of Flight Plan 2040, Integrated Surface Strike Operation (ISSO) Handbook, and Geographic Information System (GIS).
Flight Plan 2040 lays the foundation for PAF's strategic directions until 2040 with a renewed vision to become a credible and agile Air Force adaptable to modern warfare and responsive to national and regional security development. 
ISSO Handbook, on the other hand, is  intended to guide the planners and ground commanders in the utilization of PAF air assets for Surface Strike missions.
And lastly, GIS aims to support the near-real time Common Operational Picture and the geo-spatial requirements of the PAF Integrated Air Operation System and its core systems.
This year's celebration is anchored on the theme "Patuloy sa Paglipad Tungo sa Mas Matatag at Maaasahang Hukbong Himpapawid para sa Diyos, Bayan at Pilipino". 
SOURCE: Marie Joy S. Carbungco (PIA3)