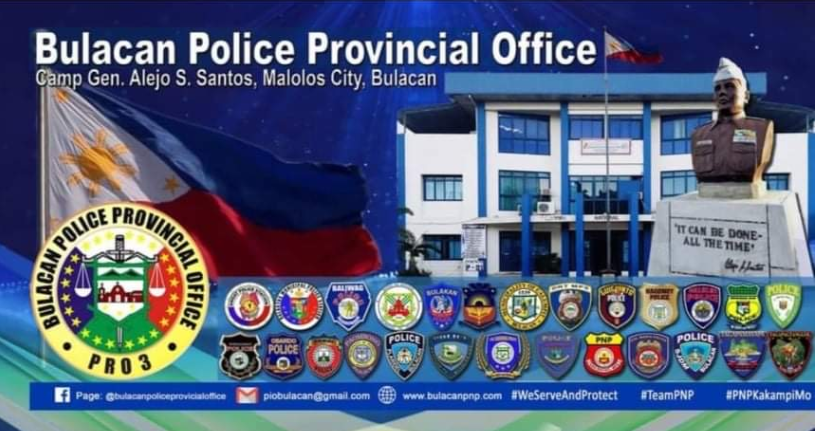 Camp Gen Alejo S Santos, City of Malolos, Bulacan — During enhanced police operations on Monday and early Tuesday, Bulacan officers apprehended an Omnibus Election Code (OEC) violator and lawbreakers.
In reports submitted to PCol Relly Arnedo, Provincial Director of Bulacan PPO, an attempted theft was intercepted in Angat, Bulacan, on November 6, 2023.
The suspects were a 43-year-old tricycle driver, a 39-year-old resident of Brgy. Balasing, Sta. Maria, along with a 56-year-old truck driver from San Rafael and a 34-year-old truck helper from Norzagaray, were apprehended while trying to steal diesel fuel from a Hyundai Rovex-9 backhoe belonging to a local businessman. Quick action by Angat PS patrol officers led to the suspects' capture, with 110 liters of stolen diesel recovered. Additionally, the truck helper was found in possession of an unlicensed magnum caliber.22 firearm with six live rounds, leading to appropriate criminal complaints filed against the suspects.
Seized evidence were subsequently turned over to the Bulacan Provincial Forensic Unit, Malolos City, Bulacan, for examination, while a violation of RA 10591 "Comprehensive Firearms and Ammunition Regulation Act" relative to the Omnibus Election Code (OEC) is being filed for a complaint against the arrested suspect.
Meanwhile, another incident unfolded along the Provincial Road in Brgy. Borol 1st, Balagtas, Bulacan. The suspect, a 29-year-old individual, was apprehended during a routine Oplan Sita operation when he and another individual on a motorcycle were flagged down for not wearing helmets. Under the influence of alcohol, the suspect resisted arrest, displayed disrespect, and used foul language against the police officers, leading to his apprehension. He was subsequently taken for a medical examination before being processed at Balagtas MPS for investigation and proper disposition.
Moreover, in the early hours of November 7, 2023, a robbery occurred in Brgy. Kaypian, CSJDM, Bulacan. The victim was confronted by the suspect, who was wielding an ice pick as she entered her home. A holdup was declared, and her cellphone worth Php 10,000 was taken. Quick action was taken when the victim's son sought assistance from the authorities, leading to the arrest of the suspect and the recovery of the stolen items, including the weapon used.
All the arrested accused are presently under the custody of the arresting unit or station for proper disposition while appropriate criminal complaints have been filed in court.
The Bulacan PNP is fully dedicated to ensuring a safe community free from criminal activities. Our determination to apprehend those who instill fear and resort to violence in the community underscores our unwavering commitment to combat lawlessness and violence. — "Pulis ng PRO 3, Partner ng Pamayanan"