For the first time ever in the Philippines, NLEX Corporation partners with Paramount Consumer Products to deliver in a special way the message of safety on the roads.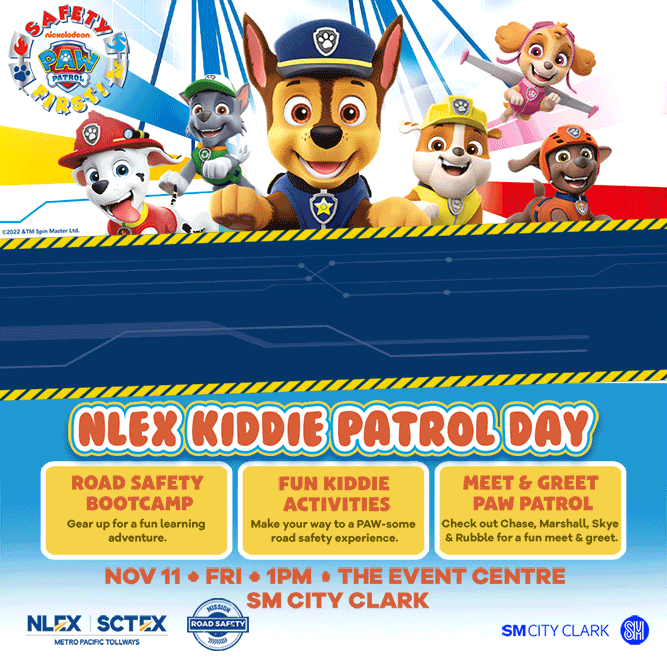 This global 'Nickelodeon Safety First with PAW Patrol' campaign, which will run from November 2022 to June 2023, seeks to encourage motorists to adopt safe driving habits and educate children on how to be safe on the road. Featuring the characters from the hit animated preschool series PAW Patrol, produced by Spin Master Entertainment and airing on Nickelodeon and Nick Jr., the safety messages can be seen on NLEX Corporation social media pages, toll plaza banners, and billboards along NLEX's extensive road network.
Safety has always been a top priority of NLEX, and the company has continuously implemented programs that increase safety awareness among motorists and people from its host communities, as well as for children. This social initiative of NLEX's emphasis on safety seeks to educate children and families on how to be safe on the road.
Reinforcing its safety drive, NLEX and Paramount Consumer Products are set to launch across the NLEX-SCTEX the 'Nickelodeon Safety First with PAW Patrol' campaign showcasing messages of safety for children and adults alike.
"As a company that puts safety at its core, NLEX has partnered with Paramount to engage and educate children and their families about road safety by having a series of fun and informative online communication campaign, out-of-home ads, and on-ground activations," said NLEX Corporation President and General Manager J. Luigi L. Bautista.
He added that the project complements its new Mission Road Safety campaign that highlights safety as everyone's responsibility. The campaign is anchored on three pillars: Safe Driving, Safe Vehicles, and Safe Roads.
Based on the data from the United Nations Economic and Social Commission for Asia and the Pacific (UNESCAP), transport accidents in the Philippines yielded an average of 345 daily fatalities. Findings by the National Center for Transportation Studies (NCTS) also showed that around 38 children in the Philippines die every day due to road traffic injuries. Given these figures, NLEX intends to ensure kid's road safety and further contribute to the reduction of child road injuries through safety trainings and engaging road safety tips and reminders on social media.
To further drive home the message, NLEX will have a kiddie boot camp happening on November 11, 1:00 p.m., at SM City Clark. Dubbed as the NLEX Kiddie Patrol Day, the event will feature exciting activities for kids such as road sign making, coloring activity, driving simulation game, as well as a road safety workshop. Participants will also have the chance to be given a safety badge and an opportunity to meet PAW Patrol's Chase, Marshall, Skye, and Rubble costumed characters in a meet and greet session.
'Nickelodeon Safety First with PAW Patrol' was launched globally in 2019 to spread the word about the importance of children's safety. It utilizes multi-platform approaches, using the safety educational values of the PAW Patrol pups to educate children across road, fire, water safety and more.
Says Dennis Tan, Vice President Brand and Retail Marketing of Paramount Consumer Products Asia, "Encouraging positive behaviour has always been the hallmark of PAW Patrol. The show uses teamwork to model good citizenship, help solve problems in the community and is the perfect vehicle for children and their families to adopt safety-first practices everywhere and anywhere they are. This exciting partnership with NLEX further cements our messaging to our fans and our joint efforts in this regard are completely aligned."
About NLEX Corporation
NLEX Corporation is the builder and operator of NLEX and SCTEX, two of the major tollways in the Philippines. A subsidiary of Metro Pacific Tollways Corporation, it is engaged in the development, design, construction, finance, operation, and management of toll road projects.
About Nickelodeon
Nickelodeon, now in its 43rd year, is the number-one entertainment brand for kids. It has built a diverse, global business by putting kids first in everything it does. The brand includes television programming and production in the United States and around the world, plus consumer products, digital, location-based experiences, publishing and feature films. For more information or artwork, visit http://www.nickpress.com. Nickelodeon is a part of Paramount's (Nasdaq: PARA, PARAA) global portfolio of multimedia entertainment brands.
About PAW Patrol
The hit animated preschool series PAW Patrol, airing on Nickelodeon and produced by Spin Master Entertainment, follows a pack of heroic rescue pups-Chase, Marshall, Rocky, Rubble, Zuma, Skye and Everest- who are led by a tech-savvy boy named Ryder. Together they work hard to protect the Adventure Bay community believing no job is too big, no pup is too small! The series features a curriculum that focuses on citizenship, social skills and problem-solving. PAW Patrol is available daily on Nick Jr on Sky Cable, Cignal, Asian Vision and GSat. You can also catch PAW Patrol streaming on Netflix.
About Paramount Consumer Products
Paramount Consumer Products oversees all licensing and merchandising for Paramount (Nasdaq: PARA, PARAA), a leading global media and entertainment company that creates premium content and experiences for audiences worldwide. Driven by iconic consumer brands, Paramount Consumer Products' portfolio includes a diverse slate of brands and content from BET, CBS (including CBS Television Studios and CBS Television Distribution), Comedy Central, MTV, Nickelodeon, Paramount Pictures and Showtime. With properties spanning animation, live-action, preschool, youth and adult, Paramount Consumer Products is committed to creating the highest quality product for some of the world's most beloved, iconic franchises. Additionally, Paramount Consumer Products oversees the online direct-to-consumer business for CBS and Showtime programming merchandise, as well as standalone branded ecommerce websites for Star Trek, SpongeBob, South Park, and MTV.