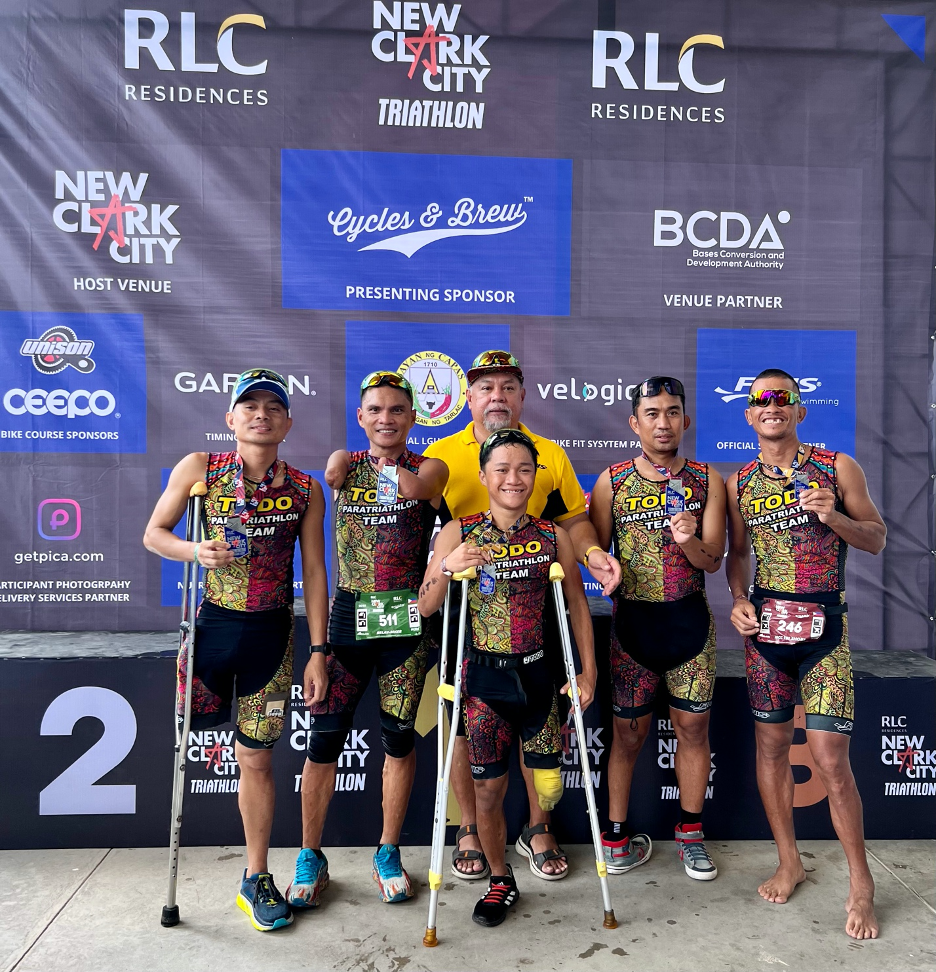 NEW CLARK CITY, CAPAS– In nearly ideal conditions with a drizzle of rain at the end of the course, the RLC Residences New Clark City Triathlon saw 700 triathletes take part in the biggest triathlon race in the world-class facilities of the National Government Administrative Center (NGAC) here in Capas, Tarlac on Sunday, September 25, 2022.
At 6:30 a.m., the athletes began their journey with a 900-meter swim in the NCC Aquatics Center, followed by a 50-kilometer ride on the NCC Access roads and a 12-kilometer run around the NGAC compound, which includes laps around the athletic track. Their race concludes with an unforgettable finish through the ramp leading to the Aquatics Center's upper deck. 
In the elite men's group, Raymond Torio, competing in the NCC Tri Long, was the first to cross the line with an overall finishing time of 2:31:26 while in the elite women's race, Rhia Stawicki tops honors with an overall finishing time of 2:36:03.
Coach Abe Tayag, one of GoClark's event directors, expressed gratefulness to the triathletes and sponsors.  According to him, "7 events in 6 months wouldn't be possible without all your support."
"Ang galing ng tandem ng GoClark Sports & Events, 

RLC Residences,

 and The BCDA Group for a very successful event! The race course was challenging and the finish line was picture-perfect. Another excellent job! Thank you as always," Arrey Perez, senior vice president of Bases Conversion and Development Authority said.
Perez teamed up with athletes from Go for Gold and they placed 2nd place in the all-male category of the relay competitions.
"I am also glad to have not failed my team in my 50-km bike with a time of 1:30:33. Congratulations to us for our 2nd runner-up finish at the RLC Residences New Clark City Triathlon!" said Perez in his Facebook post.
On the other hand, RLC Residences Marketing Head and Chief Integration Officer Karen Cesario expressed her appreciation for how this event provided opportunities for families to bond and enjoy themselves together. 
"We are delighted to see families present in this race to cheer on the athletes. Moments like these inspire us to design homes for families that become part of our community. We all know that when families come together to bond and build meaningful memories, communities are strengthened and a strong nation is being built," said Cesario.
"The race is always well-organized, Jumbo and Abe [Tayag] actually host a very good race.  We've been partnering with them for a while already," said Vince Garcia, coach of the para-triathlete team and sole country distributor of Finis, a One Stop Shop for Swimwear and Swim Training Gear plus all related swim accessories.
For journalist Kara David, she encouraged women of all ages to get into an active lifestyle.
"It pays to be trained. It's really mind over matter," she said. She expressed her gratitude to Trimac Coaching for helping her prepare and finish the race.
"I'm 49 years old, to all the ladies out there, you can do it," David, who is also the Chairperson of UP Diliman College of Mass Communication's Journalism Department encouraged everyone to exercise and be physically active.
The New Clark City National Government Administrative Center, home to the triathlon 2022, is a world-class venue worthy of hosting GoClark Sports & Events' 7th race this year since the government allowed them to hold events according to Jumbo Tayag, race director.