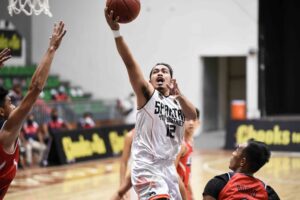 The Muntinlupa Water Warriors leaned on Jed Mendoza in the final moments as they ousted the Quezon Barons, 112-104, last Sunday to clinch a twice-to-beat advantage in the quarterfinals of the Chooks-to-Go National Basketball League-Pilipinas (NBL) Chairman's Cup 2021 at the Bren Z. Guiao Convention  Center.
Mendoza was the hero for the Water Warriors as he scored 32 points and hit a triple with 1:09 left to bring the Muntinlupa lead to 108-104 after trailing 98-104. The Water Warriors sealed the No. 3 position with the win and the twice-to-beat incentive as they face No. 6 Paranaque Aces in the quarterfinals.
The other quarterfinal pairing will see the fourth-seed Bulacan DF Republicans with a twice-to-beat incentive against fifth-ranked Taguig Generals.
The Barons ended up in a tie with the Aces with a 5-5 record at sixth place but were eliminated due to their loss to the Aces during the elimination round.
Biboy Enguio had 23 points and 11 rebounds while Kyle Villablanca had 15 points and 5 of 5 from the free throw line, most of which he converted during the late stretch of the game.
Christopher Lagrama had 27 points along with 6 of 13 from threes for the Barons including a triple that brought Quezon's lead to 104-98.
In the first game, the La Union PAOwer defeated Stan Spartan 4th District, 113-72, to take the No. 2 position and an outright semifinal berth.
Marchie Blaza finished the game with 20 points, 17 rebounds and four blocks as La Union finished the eliminations with an 8-2 win-loss record.
La Union will join top-seed Pampanga in waiting for their opponent in the semifinal round which will be a best-of-three showdown.
NBL Standings
xx  – Pampanga     9-1
xx  – La Union        8-2
x   – Muntinlupa     7-3
x   – Bulacan          7-3
y   – Taguig            6-4
y   – Paranaque     5-5
       Quezon          5-5
       Laguna           4-6
       Mindoro          3-7
       Stan Spartan  1-9
       Zamboanga    0-10
xx-clinched outright semifinals
x-clinched twice-to-beat in quarterfinals
y-clinched quarterfinal berth