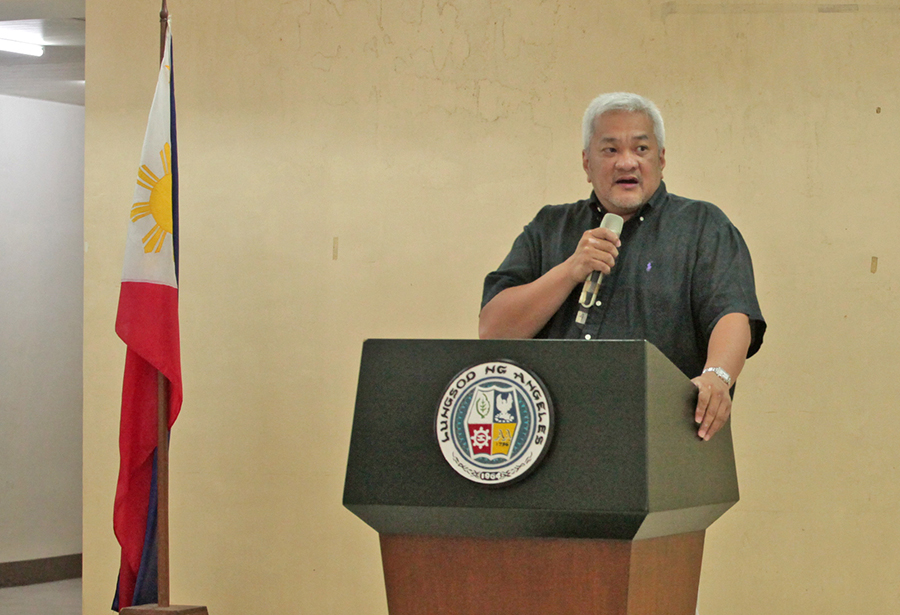 ANGELES CITY, Pampanga – Carmelo "Pogi" Lazatin, Jr. took oath for his second term as Angeles City Mayor on June 30, 2022 at the Purok 2 Covered Court in Barangay Cutud.
In a speech delivered after his oath taking ceremony, Lazatin laid down his vision for the city in the next three years, highlighting eight key points – public order and safety, public health, local business, culture and tourism, environment, education, urban poor, and social welfare.
Lazatin took his oath in front of Judge Maria Angelica Paras-Quiambao and was joined by his mother, Iluminada Gurion Lazatin; his wife, Ma. Tiffanee Lazatin; and his children, Atty. Kercee Lazatin, Dr. Kenchi Lazatin, and Keece Lazatin.
Also taking oath on the same day were Vice Mayor Ma. Vicenta "Vicky" Vega-Cabigting and the ten elected City Councilors; Atty. Arvin Suller, JC Parker-Aguas, Dan Lacson, Joseph Alfie Bonifacio, Marino Bañola, Jay Sangil, Raco Del Rosario, Alexander Indiongco, Edu Pamintuan, and Cris Cortez.
Barangay Cutud was chosen as venue for the oathtaking of newly elected Angeles City officials in line with Lazatin's personal tradition of having his oath taking ceremony in the barangay where he garnered the greatest number of votes.
In the recently concluded National and Local Elections, Lazatin obtained a total of 7,178 votes (81%) in Barangay Cutud versus 1,719 votes (19%) for his opponent.
Lazatin also posted a record win in the recently concluded elections, winning in all clustered precincts in all 33 barangays of the city and obtaining a total of 112,953 votes – the first time in the city's history that a mayor was elected with more than 100,000 votes.
PUBLIC ORDER AND SAFETY
According to Lazatin, the city shall appropriate P100 million for the installation of additional CCTV cameras to address the blind spots throughout the city and augment the budget of the Angeles City Emergency and Disaster Command Center (Command Center) to efficiently monitor the activities in all our major roads.
Lazatin said that he has instructed his Chief Adviser, IC Calaguas, to set up the 911 emergency hotline where every Angeleño can get help in any kind of emergency. The hotline will be linked to the city's Command Center and Angeles City Disaster Risk Reduction and Management Office (ACDRRMO).
The city will also purchase the first city-owned fire truck and train its own firefighters to augment the resources of the Bureau of Fire Protection (BFP).
The Angeles City Anti-Drug Abuse Council (ACADAC), will also continue its drug-clearing operations together with the Philippine National Police (PNP), Philippine Drug Enforcement Agency (PDEA), and the Department of Interior and Local Government (DILG).
PUBLIC HEALTH
The City Government will also allocate some P30 million to repair and equip all of the city's remaining 28 sub health centers. Meanwhile, the five rural health units shall be converted to Puso Centers, where there will be 24-hour birthing stations, a dedicated dental clinic and readily available free medicines.
Funding shall also be provided for the continued trainings of all our city health workers – from City Health Office (CHO), Rafael Lazatin Memorial Medical Center (RLMMC), Angeles City Blood Bank, including Barangay Health Workers (BHW), Barangay Population Workers (BPW), and Barangay Nutrition Scholars (BNS).
Lazatin also announced that on July 4, the city will kick off its Nutrition Month celebration with the historic launching of the city's own Pusung Mamon, a malunggay bread that will be given daily for free to 1,500 identified malnourished children throughout the city for three months.
The Gender and Development Office (GAD) will also be re-launching its women's health programs that have been halted due to the pandemic, including free pap smear and breast cancer screening.
LOCAL BUSINESS
The Lazatin administration also vows to extend every possible support to export industries and enter into viable and strategic partnerships with cottage, small, and medium-scale enterprises.
Through the Angeles City Economic Development and Investment Promotions Office (ACEDIPO), the city will participate in trade fairs locally and abroad to promote and establish possible markets.
The One Town, One Product will be revitalized and expanded to promote food products, while extending technical support to small enterprises for them to be approved by the Food and Drug Administration (FDA) and likewise assist them in packaging and marketing.
CULTURE AND TOURISM
The city will also establish a consortium through the Angeles City Tourism Office (ACTO). Stakeholders in a specific tourism area shall be identified to launch a cooperative arrangement between restaurants, hotels, and entertainment establishments and come up with a unified package for tourists.
The Lazatin administration also plans to rehabilitate and repackage Field's Avenue to be a wholesome entertainment district.
ENVIRONMENT
Through the Environmental Management Services (EMS) and City Environment and Natural Resources Office (CENRO), Lazatin also vows to continue the city's Reforestation Program of the 560-hectare Angeles City Watershed in Barangay Sapangbato. To date, the city has planted trees on 100 hectares of land in the watershed.
EDUCATION
The City College of Angeles (CCA) will also be preparing to implement a blended methodology – face-to-face and online – to accommodate more students. Within the next few months, the third story of the main CCA building is expected to be completed.
URBAN POOR
The city government shall also allocate P30 million yearly to the Local Urban Poor and Housing Affairs Office (LUPAHO) for the procurement of land to be distributed to qualified urban poor beneficiaries.
"Just like my father, our city government shall seek means to provide our lesser fortunate citizens with roofs over their heads where they can live with dignity," Lazatin said.
SOCIAL WELFARE
The Lazatin administration will also be providing financial assistance and livelihood programs for solo parents, the differently-abled, and members of the LGBTQ community, and later on provide them with livelihood packages so they can start their own small businesses.
Closing his speech, Lazatin urged his fellow government officials and employees, and barangay officials and staff to work as one and synchronize their development plans within the framework of the city's vision strategies.
"I leave you with a vision to make Angeles a globally-competitive, world-class destination where its citizens stand proud and strengthened by a vibrant economy, living in peace and harmony with our environment, and secure for our children a better chance for a better future," said Lazatin.
"The road ahead is not easy. We have successfully survived through the worst times. With the help of our Father Almighty, I am confident that we can work our way toward the best of times to ultimately achieve our goals," he added.