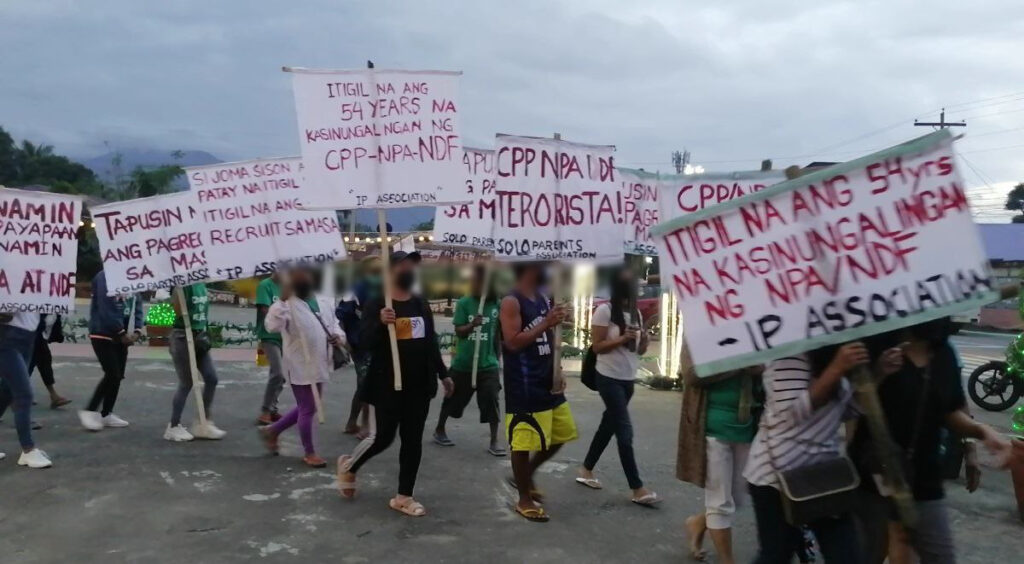 FORT MAGSAYSAY, Nueva Ecija – Former rebels (FRs) and mass supporters belonging to various People's Organizations (POs) denounced the Communist-NPA-Terrorists (CNT) during the peace rally conducted in front of the municipality of San Luis, Aurora on Monday, December 26, 2022.
The peace rally against terrorism was held as the Communist Terrorist Group (CTG) commemorates their 54th founding anniversary. The said rally was attended by officials from local government units, line government agencies and soldiers from the 91st Infantry Battalion (91IB) of 7th Infantry Division (7ID), Philippine Army to denounce the atrocities, lies, deception and manipulative schemes of the CTG.
The groups burned communist terrorists' flags signifying their denouncement of the terrorists'  violent acts against the Filipino people. The FRs and POs also reiterated their oath of allegiance to the government during the event as they totally reject the CTG.
The POs which have withdrawn their support are Indigenous Peoples Association, Solo Parents Association, Samahan ng Magsasaka ng Camalatan Nonong Sr., Nagkakaisang Mamamayan sa Dicaluyongan Association, Masaganang Perlas ng Silanganan ng Aurora Province Association and Sambayanan Association.
Lt. Col. Julito Recto Jr., Commander of 91IB, lauded the FRs and POs for withdrawing their support from the CNT and affirming their allegiance to the government.
Meanwhile, Maj. Gen. Andrew D. Costelo, Commander of 7ID, elaborated that the activity is an outcome of the soldiers' and government agencies' untiring efforts in helping the local community.