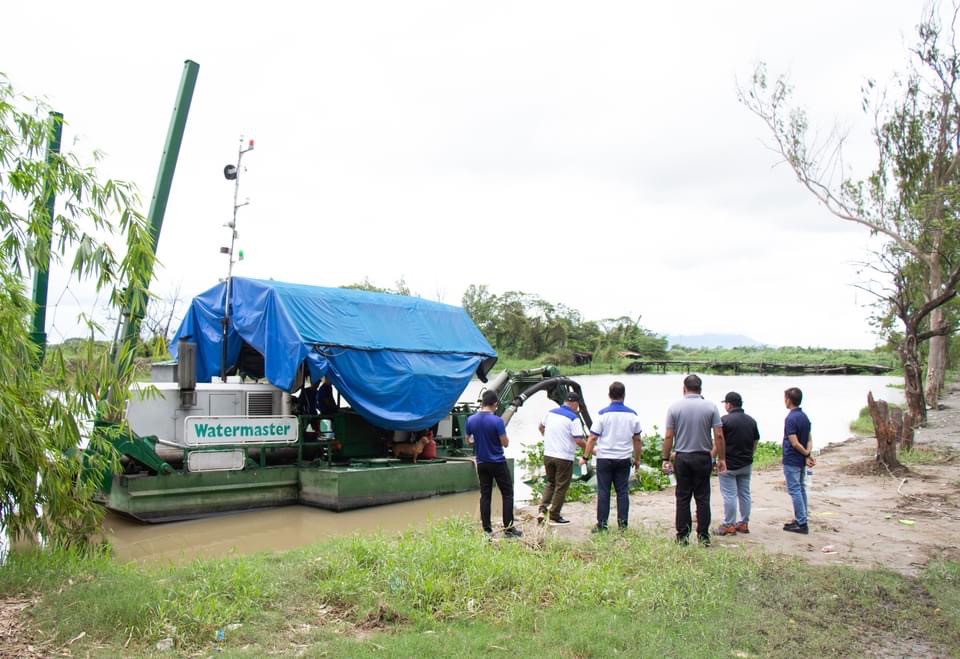 Department of Public Works and Highways (DPWH) Regional Director Roseller Tolentino recently checked the status of dredging activities of being undertaken by the Regional Equipment Management Division in three locations in the town of San Simon and Sto. Tomas in Pampanga.
Accompanied by EMD Chief Danilo Danganan and Assistant EMD Chief Francisco Licup, Jr., Tolentino assessed the current accomplishments of the flood mitigation efforts of the EMD and expressed pleased with the progress of the dredging activities.
Danganan reported that the EMD has deployed the K9-01 Vegetation Dredge in Brgy. Sta. Monica (San Simon), the K4-24 Amphibious Excavator in Tulaoc River (San Simon), and the K3-15 Multi-purpose Amphibious Dredge in Brgy. Federosa (Sto. Tomas) to clear waterways of accumulated silt and debris, with the goal of preventing flooding during heavy rains.
Meanwhile, Tolentino stated that the dredging activities in Pampanga are part of DPWH's broader efforts to mitigate flooding, prompted by a recent flooding incident at the San Simon Section of the North Luzon Expressway (NLEX), where water from the Pampanga River flowed into the expressway, particularly under Tulaoc Bridge.
Furthermore, Danganan emphasized their intention to coordinate all flood mitigation efforts in the low-lying areas of Pampanga with the local government units. This collaboration is deemed essential as the major tributaries of the Pampanga River intersect with these regions, thereby creating a shared responsibility for flood prevention and management.
Tolentino was also briefed by Danganan on the ongoing dredging activities at Hagonoy, Bulacan, which are meant to remove a particular amount of silt from the Hagonoy River, and that the Bureau of Equipment (BOE) will be deploying additional dredge equipment to support EMD's operations in these areas.
The DPWH has been implementing a number of flood mitigation projects, including the construction of flood control structures, dredging waterways, and widening river channels, Tolentino however emphasized the importance of strictly following environmental protection measures to minimize the potential impact of dredging activities on the surrounding environment.
Key personnel from EMD's Marine Equipment Section, including Dredge Masters Donalyn Nacpil and Christopher G. Ramos, participated in the inspection.
SOURCE: DPWH Region III