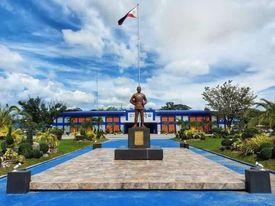 Camp Olivas, City of San Fernando, Pampanga — Police authorities seized Php 476,000.00 worth of shabu and arrest three individuals including a High-Value Individual (HVI) during separate anti-illegal drug operations conducted in Pampanga and Olongapo City on Sunday.
According to the detailed report provided by Pampanga Provincial Police Office, the Guagua Municipal Police Station apprehended a High-Value Individual (HVI) known as "JOSEPH." During an anti-illegal drug operation in Guagua, Pampanga, JOSEPH was found in possession of approximately 55 grams of shabu, valued at an estimated PHP 374,000. 
This arrest underscores the determination of the police to tackle drug-related issues in the region.
In a related development, Olongapo City's City Director, PCol Carlito Grijaldo, reported the successful apprehension of two individuals in Brgy. Barretto, Olongapo City. This accomplishment resulted from a meticulously executed buy-bust operation conducted by the CPDEU OCPO. In the process, law enforcement confiscated 15 grams of shabu, valued at more or less PHP 102,000.
PBGen. Jose Hidalgo Jr., RD, PRO3 commended the dedicated officers involved in these operations. He stated, "I commend our troops for a job well done. The entire police force of PRO3 remains committed to our mission of eradicating the proliferation of illegal drug trade within our communities, in pursuit of a drug-free Central Luzon."
These arrests and seizures demonstrate the unyielding commitment of law enforcement agencies in Central Luzon to maintain the safety and well-being of the communities they serve. Such proactive measures are vital in the ongoing fight against the illegal drug trade.