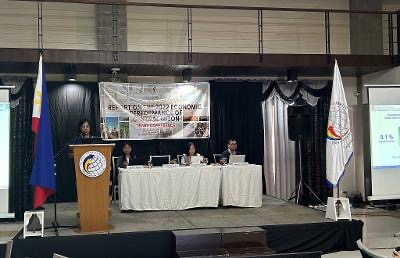 CITY OF SAN FERNANDO, Pampanga — Central Luzon ranked third among the regions with the fastest growing economy in the Philippines.
This as the Philippine Statistics Authority (PSA) reported that the region's economy grew to P2.19 trillion in 2022 from P2.02 trillion in 2021, translating to an 8.1 percent growth.
National Economic and Development Authority (NEDA) Regional Director Nerrisa Esguerra emphasized that the increase in its economy suggests that Central Luzon is back on track from having the worst regional economic decline in 2020 amid the COVID-19 pandemic.
"The government has been implementing reforms, programs, and projects aimed at addressing constraints to growth and pressing challenges, particularly inflation brought about by global developments and supply issues," she added.
Esguerra cited the importance of the Philippine Development Plan and the Central Luzon Regional Development Plan 2023-2028 in economic growth as these are designed to bring about economic and social transformation.
To further propel Central Luzon's economic growth, the official underscored that there is a need to continue expanding collaboration with the private sector to strengthen infrastructure development, aid resiliency, improve connectivity, and pursue human capital development.
"I call on everyone to keep working together, leveraging strengths, and addressing challenges head-on to realize the vision of the country for a Matatag, Maginhawa, at Panatag na Buhay para sa Lahat ng Pilipino," she pressed.
PSA shared that Central Luzon's economic performance is brought by the increase in its three major sectors affecting the Gross Regional Domestic Product (GRDP). 
The Services sector, which accounts for 46.3% of the GRDP, contributed a growth of 4.1%.
Top contributors under this sector were wholesale and retail trade; repair of motor vehicles and motorcycles with 26.4% share; professional and business services with 12%; and real estate, ownership, and dwellings with 11%.
Meanwhile, the Industry sector, accounting for 42.5% of the GRDP, grew at 3.8%.
Its top contributors were manufacturing with 63.9% share; construction with 27.6%; and electricity, steam, and water management with 7.6%.
Likewise, the Agriculture, Forestry, and Fisheries Sector, which contributed 11.2% to the GRDP, had a 0.2% from a 6% decline in the previous year.
Under this sector, crops accounted for 39.8% share; livestock and poultry for 30.2% ; and fishing at 17.6%.
Of the 7.6% economic growth in the country, Central Luzon contributed to the increase with 0.9% point, accounting for 11.0% of the total GDP in 2022.
SOURCE: Jag Lyra D. Costamero PIA3