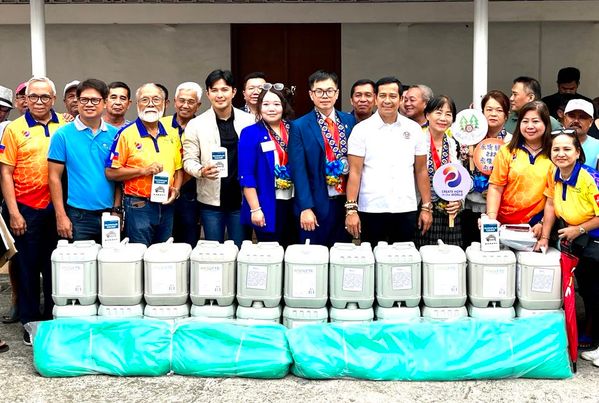 The Provincial Government of Bulacan received cash and farm biosecurity assistance from officers and members of Rotary Club of Changhwa Central-Taiwan during turnover ceremony of donations dubbed as "Babay ASF: Farm Biosecurity Assistance Program" held at the Balagtas Hall, Hiyas ng Bulacan Convention Center in the City of malolos on Thursday, August 24, 2023.
Rotary Club of Changhwa Central-Taiwan headed by its President Wen Yu "Winter" Hung and Yu-Ting "Winnie" Cheng, Deputy National Coordinator for Philippines Rotary Inter-Country Committees-Rotary Districts of Philippines and Taiwan personally handed over the P900,000.00 cash donation and 30,000 liters of Hypochlorous Acid (HOCI) worth P5.2-million to Governor Daniel R. Fernando and Vice Gov. Alexis Castro together with the Provincial Veterinary and Provincial Agriculture Office head departments and Bulakenyo backyard hog raisers.
Fernando said, at least 1,500 backyard piggeries will benefit these assistance where he emphasized that such support and generosity to Bulacan local hog raisers reflects the Taiwanese's commitment to the values of the Rotary Club to promote goodwill and peace across the globe.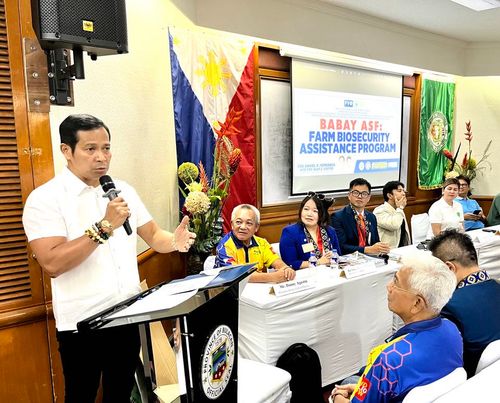 "As leaders, we provide for the people as we give them their basic needs. Putting our people first means helping them help themselves.. Creating a sustainable world where we can live and thrive means protecting all forms of life, and preserving our resources toward a better future for all," the governor said.
For his part, Vice Gov. Castro expressed gratitude to Taiwan delegates through the Rotary Club of Malolos headed by its President Danny Agustin for extending their great support to Bulakenyo hog raisers.
"This collaborative project represents not only the friendship and cooperation between our Rotary clubs, but also our shared mission of social and environmental health. Let's work together for the prosperity and economic health of our community," Wen Yu Hung said.
"Hypochlorous Acid (HOCI), is a disinfectant against African Swine Fever Virus (ASFV) donated to small pig farms in Bulacan Province under Global Grant No. GG2238437 through the support, cooperation and contributions of the Rotary Foundation, Rotary International Districts 3462 and 3770, and the Rotary Clubs of Malolos, Changwa Central and Kaohsiung Fun Heart," said Yu-Ting Cheng.
Dr. Voltaire Basinang, provincial vet officer said that Bulacan was one of the affected areas of ASF virus in 2019 where 17 municipalities suffered from infestation and hog depopulation.
It was learned that Fernando signed an Executive Order No. 13 of 2023 prohibiting the entry of swine products from affected areas of ASF as well as the launching of Bulacan Swine Repopulation Project in partnership with Department of Agriculture Regional Field Office 3.
"Our strong partnership with Rotary Club of Malolos and Changhwa Central provides major boost in our battle against ASF. These donations not just help our farmers in their businesses, but also give them hope and reassurance to move forward," Fernando ended.