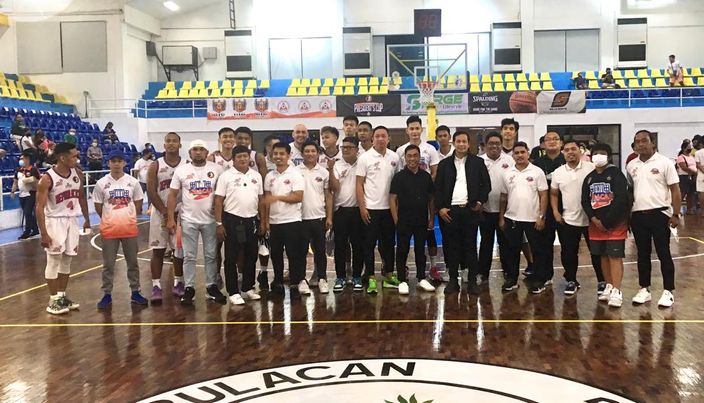 THE teams of BULACAN and Laguna joined Las Pinas in the winners of opening day of the National Basketball League (NBL) Season 2022 President's Cup over the weekend at the Bulacan Provincial Capitol Gym in Malolos City.
The Bulacan Republicans beat the Cagayan Valley Water Buffaloes, 110-86, while the Laguna Pistons downed the Quezon Barons, 101-94, to grab the early lead in the season presented by FSD Auto Insurance and Converge.
The Las Pinas Lodis earlier defeated the Narvacan Panthers, 114-92, to also win on their season debut in the league aimed to expose homegrown talents in their localities.
Marlon Monte scored 21 points in the Bulacan Republicans rout after they led by as many as 30 points against the Water Buffaloes. Ryan Operio also had 14 points for Bulacan.
Aries Santos had 19 points in the win while Jeff Disquitado and Kim Galamiton had 13 and 12 rebounds apiece for the Pistons.
A 36-19 start by Bulacan was all the Republicans needed in their blowout victory as they aim to bounce back from their loss in the quarterfinals in the Chairman's Cup.
The Pistons started their season with a bang after being eliminated from playoff contention last year for the first time since joining the league since its inception in 2018.
Fernando in his message said that the provincial government has started the construction of  Bulacan Sports Academy which aims to boost the skills and talent of Bulacan athletes.
"Gusto kong magkaroon ng advance learning and technology ang mga manlalarong Bulakenyo at para palakasin ang ating mga homegrown basketball players at i-develop 'yung kanilang discipline, sportsmanship and humility," said Fernando.
1st GAME
LAS PINAS LODIS 114 — Matillano 25, Posada 17, Chan 16, Sta. Rosa 14, Alvarado 11, Villanueva 11, Barnedo 9, Bitoy 6, Chu 3, Jose 2, Manatad 0, Ripalda 0
NARVACAN PANTHERS 92 — Casia 14, Arquero 11, Cabico 10, Casia 10, Fabro 10, Asuncion 9, Guieb 7, Navarroza 5, Reclusado 4, Saldua 4, Peralta 2, Singson 2, Sumagit 2, Villanueva 2, De Guzman 0
2nd GAME
LAGUNA PISTONS 101 — Aries Santos 19, Amil 14, Rosale 11, Arlan Santos 9, Disquitado 9, Daquis 9, Fadriquela 9, Galamiton 7, Junsay 7, Capuso 5, Guanzon 2, Balido 0, Cardeno 0
QUEZON BARONS 94 — Dongog 25, Calucin 19, Lagram 19, Vera 16, Ramos 10, Bacay 2, Sarona 2, Pericas 1, Baracael 0, Nañez 0, Plata 0, Ramirez 0
3rd Game
BULACAN REPUBLICANS 110 — Monte 21, Operio 14, Benedictos 13, Necio 13, Cruz 12, Celso 10, Mallari 9, Sumampong 7, Moraga 6, Daguro 3, Orayi 2, Santos 0
CAGAYAN BUFFALOS 86 — Binarao 17, Schwartz 16, Cortez 15, Alberto 11, Caranguian 9, Sibbaluca 9, Bautista 5, Ramos 4, Amaba 0, Camayang 0, Gutierrez 0, Maggay 0