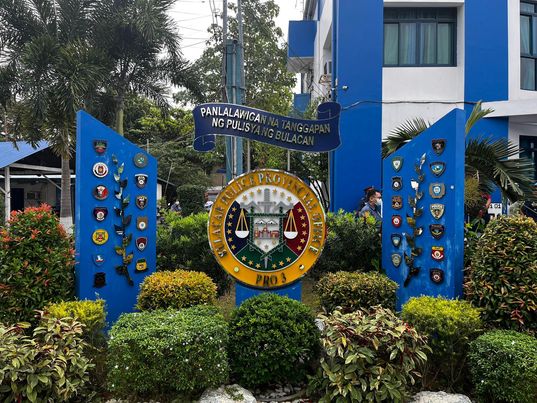 CAMP Gen Alejo S Santos, City of Malolos, Bulacan — On the sixth day of the weeklong Simultaneous Anti-Criminality Law Enforcement Unit (SACLEO) operation, the Bulacan PNP carried out successful operations on April 23, 2023. These operations resulted in the capture of a Most Wanted Person (MWP), eleven (11) felons who were wanted for various crimes, eleven (11) drug suspects, and nineteen (19) individuals who were caught engaging in illegal gambling.
P/Col. Relly Arnedo, PD Bulacan PPO, has reported that one of the arrested felons is Bartolome Madrid, 47, who is known as the Top 5 Municipal Level MWP of Pandi, Bulacan.
Madrid was apprehended by the operatives of Pandi PS following a warrant issued by Family Court Branch 6, Sta. Maria, Bulacan, for the crime of Statutory Rape.
In addition, eleven 11 more felons who were wanted for various crimes and offenses were captured by tracker teams of Bulacan CIDG, 1st and 2nd PMFC, Bocaue, Malolos City, Guiguinto, Balagtas, Baliwag City, and Sta Maria PS.
Meanwhile, the Station Drug Enforcement Unit of CSJDM, Malolos City, Meycauayan City, Balagtas, Bocaue, and Hagonoy PS confiscated suspected shabu worth an estimated total of Php 63,500 from the eleven 11 drug suspects arrested during the anti-drug bust operations.
Moreover, the Pulilan, Bocaue, Meycauayan City, and Malolos City PS conducted multiple anti-illegal gambling operations, resulting in the arrest of nineteen 19 individuals caught engaging in various illegal activities, including mahjong, tupada cockfighting, card bet games of pusoy, and tong-its. Confiscated were gambling materials, such as mahjong sets, fighting cocks, gaffs, sets of playing cards, and bet money in different denominations.
The Bulacan PNP has ramped up its operations to combat criminal activities and maintain public safety in the province. The anti-illegal drug offensive, pursuit of wanted individuals, and anti-crime measures align with the directives of RD, PRO3, Jose Hidalgo Jr. These efforts aim to create a safer and better community for the public.