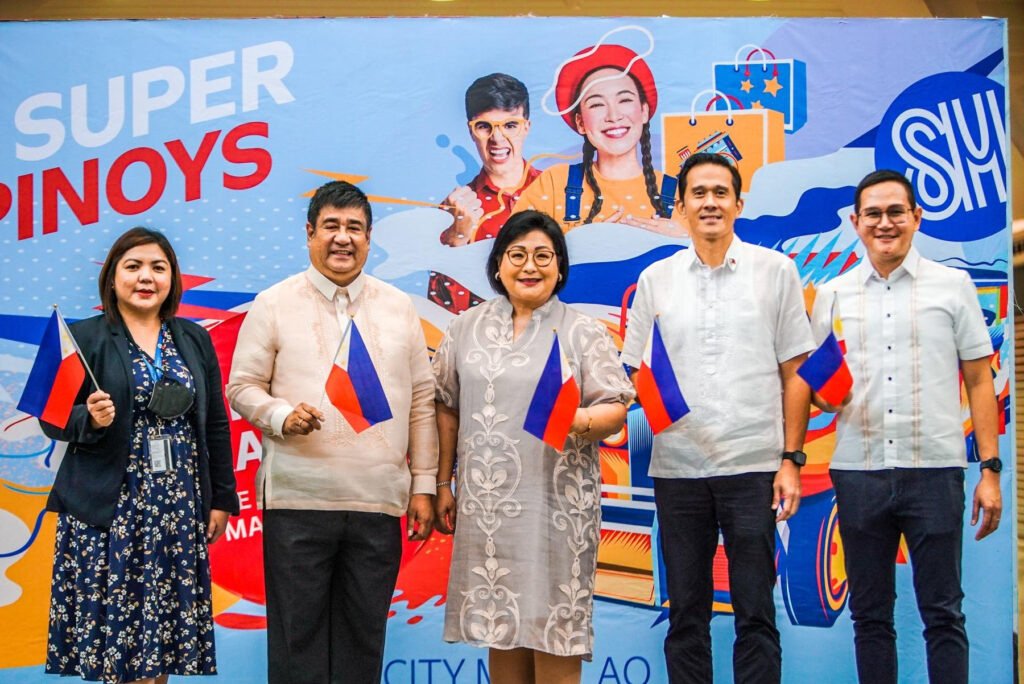 The Independence Day celebration at SM Supermalls in Bulacan proved that not even heavy rain could
 dampen    the   spirit   of   patriotism  and unity.   
Despite   the   downpour,  SM  Malls in Marilao,   Pulilan,   and   Baliwag
showcased   vibrant   and  unforgettable   events,   brimming   with   unique   flag-raising   ceremonies,   captivating
 performances, and trade fairs.

In Marilao, SM became a vibrant hub for the community as the Local Government of the town and members of the
Philippine National Police (PNP), Bureau of Jail Management and Penology (BJMP), and Bureau of Fire Protection
(BFP) gathered to honor the Nation's Independence Day. 
Approximately 600 individuals gathered to participate in the
 flag ceremony held at SM City Marilao. 
Following the ceremonial tribute, the mall transformed into a vibrant stage
with numerous cultural performances captivating the audience. 
Among the highlights of the program was the soul-
stirring performance by Bulacan Concertante. 
Adding a modern twist to the celebration, FCPC Baliktanaw dancers
took center stage, donning vibrant costumes that mirrored the colors of the national flag. 
Their dynamic moves
celebrated the diversity and progress of the Philippines, embodying the country's modern spirit while paying homage
to its rich cultural heritage.

The Independence Day celebration at SM City Marilao not only features remarkable performances but also includes
 the KKK Independence Trade and Food Fair at the event center.
In collaboration with the Marilao Local Government,
 64 homegrown Micro, small, and medium enterprises (MSMEs) participated in the Trade and Food Fair. 
This unique
 exhibit showcased Marilao's best products in fashion, food and beverage, home decor, and many more.
SM City Baliwag and SM Center Pulilan likewise dedicated a series of meaningful programs and presentations to
celebrate the Nation's Independence Day.

SM City Baliwag kicked off its Independence Day celebration with a cultural presentation by the BulSU Saring Himig
Chorale. 
The lively performance was followed by an impressive military march and tactical demonstration by the
Philippine Army. 
As a culmination of the celebration, an exhibit showcasing the military arsenal and community
projects of the Philippine Army was set up at the mall expansion. 
This provides shoppers with an up-close look at the
military's efforts and prowess. 

Meanwhile, SM Center Pulilan ignited the spirit of Independence Day through captivating performances by local
artists from Daloy Kolektibo. 
The artists mesmerized the audience with their talent and dedication to promoting local
culture.

Emphasizing the importance of supporting local businesses and promoting Pinoy Pride, both SM City Baliwag and
SM Center  Pulilan encouraged  shoppers  to explore the  Pinoypreneur  Bazaar,  which features a  wide array  of
products  from homegrown brands  in the  province. 
SM  Center Pulilan  showcased Pulilan Handicraft,  Lheihon's
Homemade Food Products, Dan & Espie Scent & Souvenirs, and Lito Rey Boneless Tinapang Bangus, while SM City
Baliwag exhibited local treats such as Sweet Escakes, Soy Yummy, and Ice Sramble ni Momshie Sarah.