THE province of Bulacan was again hailed as the 10th Most Competitive Province in the country during the 10th Cities and Municipalities Competitiveness Summit held at the Philippine International Convention Center in Pasay City last Oct. 20,2022.

Katrina Balingit, head of the Provincial Public Affairs Office (PPAO) said on Wednesday that the award is another proof of good and responsive governance under the administration of Governor Daniel Fernando.

Department of Trade and Industry Secretary Alfredo E. Pascual led the recognition of the local government units (LGUs) that excelled through the leadership of their empowered and dedicated local chief executives (LCEs) and he said that the work of the LGUs and their leaders contribute to the overall competitiveness of the country.
"We know that the Philippine possesses the right institution and innovation capabilities that allow micro and macro-economic activities to function effectively.
However, our country still has a vast potential for improvement, and we have to work together to achieve a higher ranking for our country compared to our neighbors in the region," encouraged the secretary.

Thankful for the double achievement of the province, that was also awarded as the Most Business-Friendly Province on the same day, Fernando said that the province will strive for the continuous development and improved efficiency, effectiveness, and competitiveness advantage of Bulacan.
"Back to back po ang nasungkit nating mga prestihiyosong parangal para sa ating lalawigan. Isa na naman pong patunay na sa masipag at matapat na paglilingkod, walang imposible at lahat ay makakamit para sa lalong ikadadakila ng Lalawigan ng Bulacan," the governor said.Aside from the province, the Municipality of Baliwag came in 2nd place for the Overall Most Competitive Municipality among 1st to 2nd class municipalities.
According to Edna Dizon, provincial director of the Department of Trade and Industry (DTI)- Bulacan, this is proof that the said municipalities and the province of Bulacan are unshaken by the challenges brought by the COVID-19 pandemic.
She said it also proves the resilience and determination of the Bulakenyo people to rise again during trying times.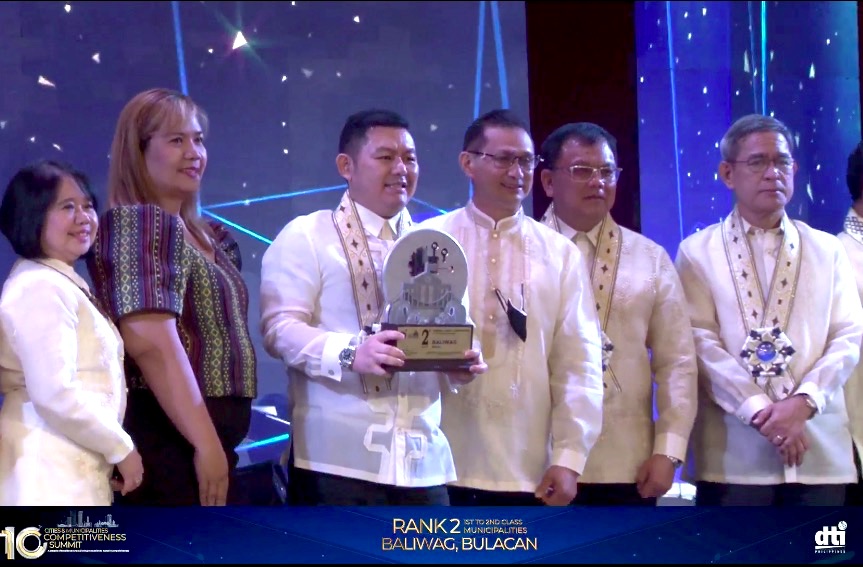 Eric Tagle, Baliwag administrator said, the Municipality of Baliwag was dubbed as Top 2 Overall Most Competitive in the First to Second Class Municipalities category.
He added that this includes Baliwag as being Top 4 in the aspect of Resiliency due to the modernization of the Rescue FVE and the existence of the Climate Change Center of the municipal government.
Tagle said, in terms of infrastructure, Baliwag is Top 6 where the completion of the construction of the Baliwag section of the Pulilan-Baliwag Diversion Road and the installation of Solar Light Panels along the said new road contributed mainly to this.
Baliwag also ranked 7th for innovation, and 8th for economic dynamism; while the Municipality of Santa maria ranked No. 5 for economic dynamism and No. 9 for infrastructure.